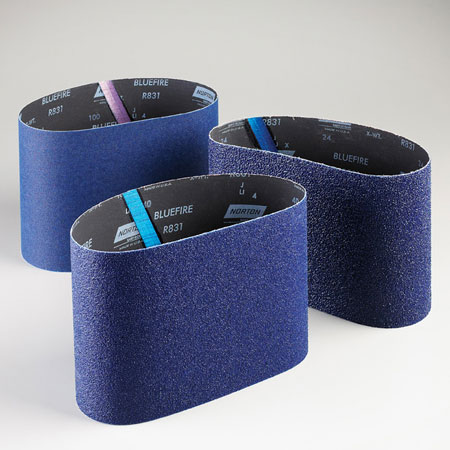 Norton Abrasives BlueFire Floor Sanding Belts 24 Grit, 19974, R831, 7 7/8 in x 29 1/2 in
Price per Unit (piece):
piece(s) in package: 1.00

SKU: 306662*33199747
Dimensions: LxWxH - 0.00x0.00x0.00
Weight: 0.55 lb / package
In Stock: 392 (pieces)
Description
Norton Abrasives BlueFire Floor Sanding Belt 24 Grit represents superior performing products for the user who requires a high level of productivity and low total abrasive cost while providing outstanding performance. Next generation zirconia grain technology provides an even faster cut and longer life, making it the professional's choice for all residential floor sanding applications. The anti-static treatment provides a better finish and cleaner work environment.
manufacturer part# 666233 19974 6
Product details:
• Grit: 24
• Belt width: 7 7/8 in (7.875 in)
• Belt length: 29 1/2 in (29.5 in)
• R831 Cloth
• H831 Paper
• Abrasive material: Zirconia
Norton BlueFire for high productivity and low cost:
• Mounted to a belt machine for continuous sanding
• Used to do the main portion of the floor
• Ideal for heavy stock removal
• Leveling floors and achieving a very smooth finish
• Popular with professional contractors for use on larger jobs
Features and benefits:
• A Norton BETTER product representing premium performance for the user who requires a high level of productivity and low total abrasive cost
• Next generation of patented, premium, self-sharpening 100% zirconia alumina grain technology for longer life, faster cut, and outstanding durability
• Y-weight poly-cotton cloth backing is stronger and more dimensionally stable
• An open coat design for excellent finish removal and resistance to loading
• Anti-static technology increases dust collection efficiency for a cleaner working environment
• Improved resin bond ensures grain retention under the most demanding applications
• Consistent scratch pattern means the finest finish of the floor
• FastTrack is a special order service for sanding belts. Items are identified by FT following the part number
Support Center: A-American Custom Flooring
Niles Branch - Web Sales
7777 N Caldwell Ave.,
Niles, IL 60714

Tel: (847) 966-0500
Fax: (847) 966-0507
Email:
This email address is being protected from spambots. You need JavaScript enabled to view it.

Chicago Branch
3221 W Irving Park Rd.,
Chicago, IL 60630

Tel: (773) 588-6200
Fax: (773) 588-6190
Email:
This email address is being protected from spambots. You need JavaScript enabled to view it.

Hawaii Branch - Contracting Office
96-1209 Waihona St.,
Pearl City, HI 96782

Tel: (808) 454-8888
Fax: (808) 454-8889
Email:
This email address is being protected from spambots. You need JavaScript enabled to view it.