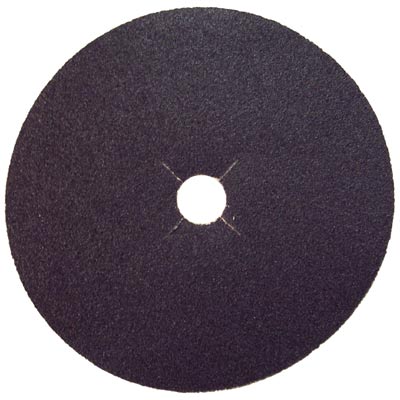 Norton Silicon Carbide Abrasive Bolt-On Edger Disc 16 Grit, 35085, 7 in x 7/8 in (H425/S413 Paper)
Price per Unit (piece):
piece(s) in package: 1.00

SKU: 306626*11350854
Dimensions: LxWxH - 0.00x7.00x0.00
Weight: 0.05 lb / package
In Stock: 3248 (pieces)
Description
Norton Abrasive Silicon Carbide Edger Disc 16 Grit is a 100% silicon carbide abrasive bolt-on paper edger disc with heavy E, F and combination paper backings for quality cut and strength on the job. Traditional abrasive grain provides consistent performance and value at a competitive price. A Norton GOOD product.
manufacturer part#: 35085
UPC#: 662611 35085 3
Product details:
• Grit: 16
• Disc diameter: 7 in
• Hole size: 7/8 in
• Abrasive material: H425 Silicon Carbide
• Backing material: S413 Paper
• Bolt-on edger discs
• Used on a hand held edger machines
• Sands areas where the drum/belt sander does not reach
• Norton GOOD product represents a value for the user who wants Norton quality with consistent performance and very competitive prices
Support Center: A-American Custom Flooring
Niles Branch - Web Sales
7777 N Caldwell Ave.,
Niles, IL 60714

Tel: (847) 966-0500
Fax: (847) 966-0507
Email:
This email address is being protected from spambots. You need JavaScript enabled to view it.

Chicago Branch
3221 W Irving Park Rd.,
Chicago, IL 60630

Tel: (773) 588-6200
Fax: (773) 588-6190
Email:
This email address is being protected from spambots. You need JavaScript enabled to view it.

Hawaii Branch - Contracting Office
96-1209 Waihona St.,
Pearl City, HI 96782

Tel: (808) 454-8888
Fax: (808) 454-8889
Email:
This email address is being protected from spambots. You need JavaScript enabled to view it.