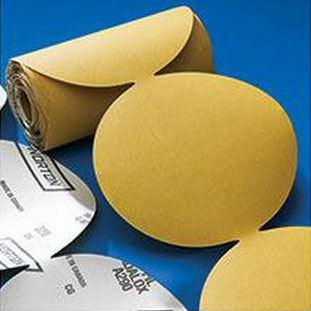 Norton Self Stick 5" Sanding Discs, P60 Grit PSA, 49831, No-Fil Adalox A290
Price per Unit (piece):
piece(s) in package: 1.00

SKU: 662611*498319
Dimensions: LxWxH - 0.00x5.00x0.00
Weight: 1.40 lb / package
In Stock: 8 (pieces)
Description
Norton Self Stick 5" Sanding Disc 60 Grit is a light-weight paper disc that offers unrivaled durability and value for dry finishing. Made with P-graded aluminum oxide abrasive for increased life, fast cut rate, and consistent finish. No-Fil stearated for reduced loading. Heavy-duty C-weight backing provides edge-tear resistance and durability.
manufacturer part#: 49831
UPC#: 662611 49831 9
quantity: 100 discs/package
Benefits:
• Tear resistant
• Superior Bond
• More Flexible
• Easier disc removal
• Achieves a more consistent, uniform scratch pattern
• Extends Sand Life
• Eliminates the risk of color transfer
• Creates a much stronger bond
Support Center: A-American Custom Flooring
Niles Branch - Web Sales
7777 N Caldwell Ave.,
Niles, IL 60714

Tel: (847) 966-0500
Fax: (847) 966-0507
Email:
This email address is being protected from spambots. You need JavaScript enabled to view it.

Chicago Branch
3221 W Irving Park Rd.,
Chicago, IL 60630

Tel: (773) 588-6200
Fax: (773) 588-6190
Email:
This email address is being protected from spambots. You need JavaScript enabled to view it.

Hawaii Branch - Contracting Office
96-1209 Waihona St.,
Pearl City, HI 96782

Tel: (808) 454-8888
Fax: (808) 454-8889
Email:
This email address is being protected from spambots. You need JavaScript enabled to view it.