Countertops
Sales associates available ONLY at Niles location.

For more detailed information visit us at:



Granite Colors


Marble colors


Corian colors


Quartz colors
  In designing your kitchen, kitchen countertops should be a top priority. Kitchen countertops can be made with several different materials: granite, concrete, ceramic, limestone, wood, marble, quartz, slate, siltstones and even stainless steel!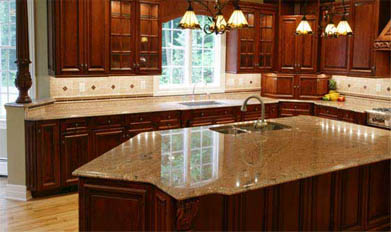 Here at A American Custom Flooring we offer you the latest trends in design and materials you can use to transform your old kitchen in a Custom One-of-A-Kind kitchen. Whether you are just remodeling your kitchen or you are trying to make a statement about your taste and lifestyle, we can help you getting your project done in fast and in budget. Our experienced professionals are here every day to help you make the right decision about the material you should use in your next project.
These are the 'hottest' trends in materials used in countertops that you can find at A American Custom Flooring:
Natural stone

is typically sealed to protect it from damage and stains. Granite is the most popular choice, with colors and patterns that reveal the region and the geological conditions that created it. With granite, each slab is unique, with random and inconsistent patterns. You can come to our fabrication facilities and select your own slabs, which features unique patterns. Granite is stain and heat resistant, and can be finished with a variety of edges and borders you can chose from. Marble is less stain-resistant and more porous than granite, so it may be damaged by acidic foods.

Solid surface

countertops offer seamless acrylic faces with seams that are only visible from the underside. With solid surfacing, sink and counter materials can be integrated to create a graceful line. Solid surfaces come in a rainbow of colors, patterns, and styles, including stone and glass look-alikes. They are stain and heat resistant, with more edging and border options than natural stone. Scratches are easily softened with a non-abrasive scrubbing pad.

Engineered Stone

is a man made quartz-composite product mixed with colored pebbles, polymers, and epoxy. It has an even pattern and more color options than natural stone. So, if a kitchen calls for more counter space, it\'s easy to order the same pattern and shade. Engineered stone is an extremely durable product that takes the heat and resists stains, and can be finished with a variety of edges and borders you can chose from.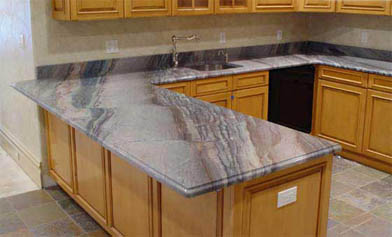 Our sales staff will make sure that from the beginning to the end of your project we are available to answer any question you may have and help you select a style, color and finish best suited to your needs! Our sales staff's knowledge of material sources, function and availability is what makes us the place to go when it comes to countertops. Our knowledgeable and experienced staff has been trained to provide you with the highest quality countertop products available.
Support Center: A-American Custom Flooring
Niles Branch - Web Sales
7777 N Caldwell Ave.,
Niles, IL 60714

Tel: (847) 966-0500
Fax: (847) 966-0507
Email:
This email address is being protected from spambots. You need JavaScript enabled to view it.

Chicago Branch
3221 W Irving Park Rd.,
Chicago, IL 60630

Tel: (773) 588-6200
Fax: (773) 588-6190
Email:
This email address is being protected from spambots. You need JavaScript enabled to view it.

Hawaii Branch - Contracting Office
96-1209 Waihona St.,
Pearl City, HI 96782

Tel: (808) 454-8888
Fax: (808) 454-8889
Email:
This email address is being protected from spambots. You need JavaScript enabled to view it.