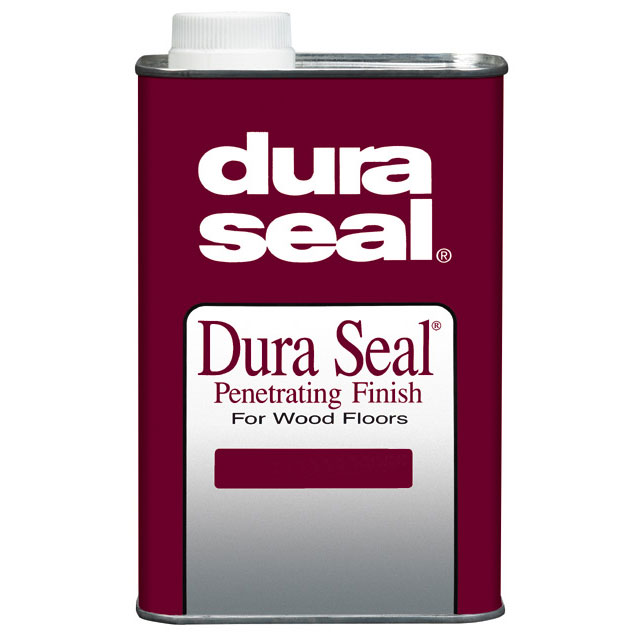 DuraSeal Penetrating Finish 208 Royal Mahogany Hardwood Flooring Stain 1 qt
Price per Unit (piece):
piece(s) in package: 1.00

SKU: 027426*862081
Dimensions: LxWxH - 0.00x0.00x0.00
Weight: 2.00 lb / package
In Stock: 176 (pieces)
Description
DuraSeal Penetrating Finish 208 Royal Mahogany Hardwood Floor Stain is a semi-transparent stain formulated to seal, color and provide exceptional durability when used on bare wood and masonry surfaces. This rich blend of oil and resin gives hardwood floors a soft, satiny sheen. Available in colors to match any decor, DuraSeal® Penetrating Finish creates a bond with the wood that won't scratch or wear away. Can be used with or without a finish coat.
see DuraSeal Penetrating Finish technical data sheet
manufacturer part# 862084444
packaging: 1 qt metal can
Important
Immediately after use, place rags, steel wool and other waste in a sealed, water filled metal container. See cautionary statement.
Dry cure & time
Approximately 8 hours to overnight.
NOTE: Drying time will be increased by high humidity, low temperature, lack of air movement or incomplete removal of excess stain.
Coverage
First coat - approximately 500 square feet per gallon. (Optional second coat - approximately 800 square feet per gallon.) A second coat is not recommended when using 350 VOC compliant material.
Clean up
Clean equipment using paint thinner, turpentine or mineral spirits.
Maintenance
Regularly remove dust and dirt by sweeping or vacuuming. Periodic buffing will renew luster. Exceptionally worn areas may require an additional finish coat. Maintain floors sealed only with DuraSeal Penetrating Finish with DuraSeal Renovator Cleaner and Reconditioner.
Solvent
Non-photochemically reactive.
Support Center: A-American Custom Flooring
Niles Branch - Web Sales
7777 N Caldwell Ave.,
Niles, IL 60714

Tel: (847) 966-0500
Fax: (847) 966-0507
Email:
This email address is being protected from spambots. You need JavaScript enabled to view it.

Chicago Branch
3221 W Irving Park Rd.,
Chicago, IL 60630

Tel: (773) 588-6200
Fax: (773) 588-6190
Email:
This email address is being protected from spambots. You need JavaScript enabled to view it.

Hawaii Branch - Contracting Office
96-1209 Waihona St.,
Pearl City, HI 96782

Tel: (808) 454-8888
Fax: (808) 454-8889
Email:
This email address is being protected from spambots. You need JavaScript enabled to view it.