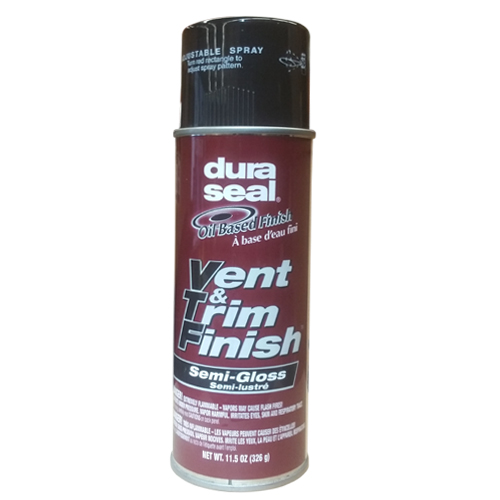 DuraSeal Vent & Trim Finish Semi-Gloss Spray 11.5 oz
Price per Unit (piece):
piece(s) in package: 1.00

SKU: 027426*833050
Dimensions: LxWxH - 0.00x0.00x0.00
Weight: 1.02 lb / package
In Stock: 7 (pieces)
Description
DuraSeal Vent & Trim Finish Spray (gloss sheen) is a self-leveling transparent, tough finish formulated to repair wood floor finishes. It is available in gloss, semi-gloss and satin. This product contains no CFC's.
see DuraSeal Vent & Trim Finish technical data sheet
manufacturer part# 83305000
packaging: 11.5 oz metal can
Precaution
Do not use over shellac, lacquer or stains containing wax or stearates.
Surface Preparation
• Sand old, worn, or damaged area until surface is dull. Be sure to feather edge the sanding to avoid lap-marks.
• Remove all dust with a cloth dampened with mineral spirits and allow to dry.
Application
• Shake can vigorously for one minute after pellets are loose in can.
• Hold can vertically approximately 12 inches from surface.
• Move can evenly across surface with slightly overlapping strokes. NOTE: Apply in thin uniform coats.
• Let dry at least 12 hours before subjecting to traffic.
Clean-Up
Mineral Spirits
Storage
CONTENTS UNDER PRESSURE. Avoid prolonged exposure to sunlight or heat from other sources that may cause bursting. Do not store above 1200F.
Support Center: A-American Custom Flooring
Niles Branch - Web Sales
7777 N Caldwell Ave.,
Niles, IL 60714

Tel: (847) 966-0500
Fax: (847) 966-0507
Email:
This email address is being protected from spambots. You need JavaScript enabled to view it.

Chicago Branch
3221 W Irving Park Rd.,
Chicago, IL 60630

Tel: (773) 588-6200
Fax: (773) 588-6190
Email:
This email address is being protected from spambots. You need JavaScript enabled to view it.

Hawaii Branch - Contracting Office
96-1209 Waihona St.,
Pearl City, HI 96782

Tel: (808) 454-8888
Fax: (808) 454-8889
Email:
This email address is being protected from spambots. You need JavaScript enabled to view it.