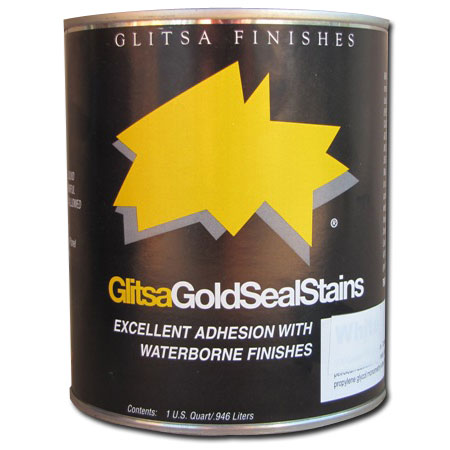 Glitsa Gold Seal Stain Golden Brown 1 qt
Price per Unit (piece):
piece(s) in package: 1.00

SKU: GLSTA.*1QT-GOLDB
Dimensions: LxWxH - 0.00x0.00x0.00
Weight: 4.00 lb / package
In Stock: 46 (pieces)
Description
Glitsa Gold Seal Stain Golden Brown is a new and improved gold seal stain that is formulated for use under the Glitsa System, oil-modified polyurethane, and most waterborne finishes.
see Glitsa Gold Seal Stain Golden Brown spec sheet file
click for Glitsa color palette
Specifications:
- Glitsa Gold Seal Golden Brown wood tone stain requires 24 hours of dry time*
*Allow stains to dry thoroughly before applying a Glitsa seal coat. Cold temperatures and/or excessive humidity will extend dry times. Increased ventilation will aid the drying process.
Maintenance:
- Coverage: 600 -1,000 sq. ft./gallon
- Shelf Life: One year in unopened container
- Packaging: 1 qt metal can
- Disposal: Dispose of unused contents in accordance with local, state and Federal regulations.
Support Center: A-American Custom Flooring
Niles Branch - Web Sales
7777 N Caldwell Ave.,
Niles, IL 60714

Tel: (847) 966-0500
Fax: (847) 966-0507
Email:
This email address is being protected from spambots. You need JavaScript enabled to view it.

Chicago Branch
3221 W Irving Park Rd.,
Chicago, IL 60630

Tel: (773) 588-6200
Fax: (773) 588-6190
Email:
This email address is being protected from spambots. You need JavaScript enabled to view it.

Hawaii Branch - Contracting Office
96-1209 Waihona St.,
Pearl City, HI 96782

Tel: (808) 454-8888
Fax: (808) 454-8889
Email:
This email address is being protected from spambots. You need JavaScript enabled to view it.