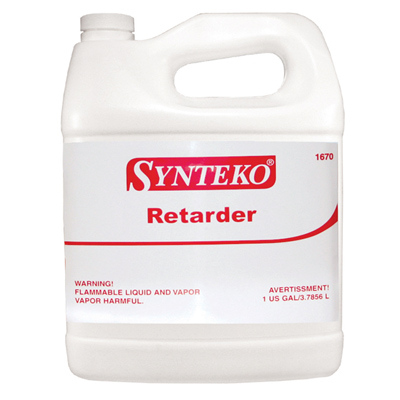 Synteko Classic Retarder 1670 1 gal
Price per Unit (piece):
piece(s) in package: 1.00

SKU: SINTEC*RETARDER
Dimensions: LxWxH - 0.00x0.00x0.00
Weight: 10.00 lb / package
In Stock: 38 (pieces)
Shipping: hazardous materials can only be shipped ground
Description
Synteko Retarder 1670 is intended to be added to Synteko Classic 1636 Matte 35, 1637 Semi Gloss 50 or 1646 Gloss 90 when large open floor areas need to be coated with Synteko Classic, or when the conditions are very warm and/or dry (low Relative Humidity). Addition of Synteko Retarder will help to improve the open time, flow and leveling of Synteko Classic under these challenging conditions.
see Synteko Retarder 1670 technical data sheet
packaging: 1 gal. plastic container
Directions for use:
• The catalyzed Synteko Classic mixture may be diluted with up to 10% with Synteko Retarder.
• The amount added depends on the jobsite conditions, e.g. airflow, layout and/or size of the floor to be coated.
• First, mix Synteko Classic with the proper amount of Synteko Hardener as recommended on the Technical Data Sheet for Synteko Classic.
• Next, add up to 10% Synteko Retarder to the catalyzed Synteko Classic mixture and mix thoroughly.
• Allow this mixture to stand for 5-10 minutes before use.
Technical data:
• Description and color: clear, low viscosity, water white liquid solvent mixture
• Density: 7.67 lb/gal US
• VOC: 918 g/l
• Flashpoint: 64°F
• Shelf life: 24 months in closed container
NO RETURNS OR EXCHANGES ON LIQUID PRODUCTS
Support Center: A-American Custom Flooring
Niles Branch - Web Sales
7777 N Caldwell Ave.,
Niles, IL 60714

Tel: (847) 966-0500
Fax: (847) 966-0507
Email:
This email address is being protected from spambots. You need JavaScript enabled to view it.

Chicago Branch
3221 W Irving Park Rd.,
Chicago, IL 60630

Tel: (773) 588-6200
Fax: (773) 588-6190
Email:
This email address is being protected from spambots. You need JavaScript enabled to view it.

Hawaii Branch - Contracting Office
96-1209 Waihona St.,
Pearl City, HI 96782

Tel: (808) 454-8888
Fax: (808) 454-8889
Email:
This email address is being protected from spambots. You need JavaScript enabled to view it.