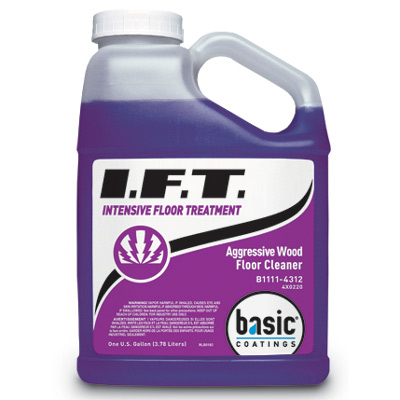 Basic Coatings IFT Intensive Floor Treatment 1 gal
Price per Unit (piece):
piece(s) in package: 1.00

SKU: 731648*000212
Dimensions: LxWxH - 0.00x0.00x0.00
Weight: 9.50 lb / package
In Stock: 21 (pieces)
Description
Basic Coatings IFT Intensive Floor Treatment (1 gal) is an aggressive cleaner that will easily remove ground-in dirt, body oils, shoe marks, ball scuffs, spilled beverages, etc. IFT is the first step in a two-part cleaning process to prepare floors for the TyKote® Dustfree Refinishing System.
download Basic Coatings I.F.T. spec sheet file
manufacturer part# B1111-4312
gtin 731648000212
Features:
• Deep, intensive cleaning.
• Removes household waxes, oils and polishes.
• Removes dirt and grease in restaurant settings.
Applications:
• commercial
• residential
• sports
• wood
Technical specifications:
• Color: Lavender (Light Purple)
• Density: 8.30 - 8.40 lbs/gallon
• PH: 12 – 14
• VOC: at minimum dilution does not exceed 2% by weight
• Flash point: greater than 200°F
• Freeze/Thaw stability: stable
Packaging:
• 1 US gallon plastic jug (4 per case)
NO RETURNS OR EXCHANGES ON LIQUID PRODUCTS
Support Center: A-American Custom Flooring
Niles Branch - Web Sales
7777 N Caldwell Ave.,
Niles, IL 60714

Tel: (847) 966-0500
Fax: (847) 966-0507
Email:
This email address is being protected from spambots. You need JavaScript enabled to view it.

Chicago Branch
3221 W Irving Park Rd.,
Chicago, IL 60630

Tel: (773) 588-6200
Fax: (773) 588-6190
Email:
This email address is being protected from spambots. You need JavaScript enabled to view it.

Hawaii Branch - Contracting Office
96-1209 Waihona St.,
Pearl City, HI 96782

Tel: (808) 454-8888
Fax: (808) 454-8889
Email:
This email address is being protected from spambots. You need JavaScript enabled to view it.