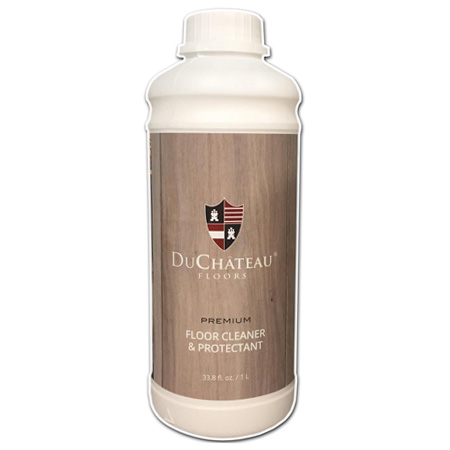 DuChateau Premium Floor Cleaner & Protectant 33.8 fl oz
Price per Unit (piece):
piece(s) in package: 1.00

SKU: DUCHAT*PPARQCLEA
Dimensions: LxWxH - 0.00x0.00x0.00
Weight: 5.00 lb / package
In Stock: 20 (pieces)
Description
DuChateau Premium Floor Cleaner & Protectant 33.8 fl. oz. is an excellent all purpose ready-to-use cleaner for all common kinds of hardwood and laminate floors. DuChateau Parquet Cleaner efficiently removes dirt, grease while leaving an invisible antistatic protective thin film on the clean surface.
Floors are finished with a Hard Wax Oil that is baked into the floors during the manufacturing. For this reason, they must be maintained differently than polyurethane or aluminum-oxide finished floors. First and foremost, DuChateau Parquet Cleaner is the ONLY cleaning product approved for use when cleaning a DuChateau Hard Wax Oil floor. Products containing alcohol are not approved for use when cleaning DuChateau Floor. The reason for this is very simple; standard cleaning products use alcohol as a drying agent to speed up evaporation after application. Alcohol, by its chemical nature, will break down waxes and oils, and damage your DuChateau Hard Wax Oil Floor.
Daily cleaning:
For regular daily upkeep of your floor, a simple sweeping or vacuuming should be all that is required. A floor vacuum with a hardwood floor attachment or one in which the beater brush can be turned off should be used to avoid scratching or damaging the floor.
Weekly / bi-weekly cleaning:
For a slightly deeper cleaning of your floor, DuChateau Parquet Cleaner is recommended. It is a concentrate that needs to be diluted at a ratio of 1/4 cup per gallon of hot water, or 1 capful per half gallon of hot water. Use a standard sponge mop in which the water can be squeezed out. The mop should be damp, not wet. EXCESS MOISTURE CAN DAMAGE THE FLOOR. Simply mop your DuChateau Floor, making sure that the mop is never wet and that the concentrate is not pooling on the surface.
Support Center: A-American Custom Flooring
Niles Branch - Web Sales
7777 N Caldwell Ave.,
Niles, IL 60714

Tel: (847) 966-0500
Fax: (847) 966-0507
Email:
This email address is being protected from spambots. You need JavaScript enabled to view it.

Chicago Branch
3221 W Irving Park Rd.,
Chicago, IL 60630

Tel: (773) 588-6200
Fax: (773) 588-6190
Email:
This email address is being protected from spambots. You need JavaScript enabled to view it.

Hawaii Branch - Contracting Office
96-1209 Waihona St.,
Pearl City, HI 96782

Tel: (808) 454-8888
Fax: (808) 454-8889
Email:
This email address is being protected from spambots. You need JavaScript enabled to view it.