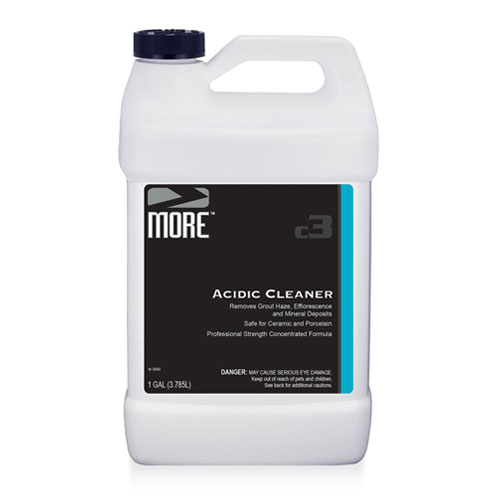 MORE Acidic Cleaner 1 gal
Price per Unit (piece):
piece(s) in package: 1.00

SKU: 852230*006310
Dimensions: LxWxH - 0.00x0.00x0.00
Weight: 12.00 lb / package
In Stock: 5 (pieces)
Description
MORE Acidic Cleaner (1 gal) is a concentrated, professional strength acidic cleaner specifically formulated for cleaning and restoring natural stone, tile, and concrete surfaces. Safely removes cement-based grout haze, efflorescence, and mineral deposits from floors, counters, and other high traffic areas. Use ONLY on non-acid sensitive surfaces. The right choice for cleaning professionals, restoration contractors, and ambitious DIYers.
see MORE Acidic Cleaner 1 gal technical data sheet and safety data sheet
manufacturer part#: M-10060
packaging: 1 gal plastic container
available also in 1 qt plastic container packaging
Features:
• Safe for Ceramic, Porcelain, and Non-Acid Sensitive Stone
• Removes Cement-Based Grout Haze and Efflorescence
• Restores Grout
• Economical, Concentrated Formula
• Degrades Penetrating Sealers
• Unscented
• Professional Grade
Technical data:
• Coverage: One gallon cleans up to 10,000 sq. ft.
• pH Measurement: 1.5
Dilution ratios:
• Light Duty: 1 part cleaner / 8 parts water (1:8)
• Medium Duty: 1 part cleaner / 4 parts water (1:4)
• Auto Scrubber: 1 part cleaner / 3 parts water (1:3)
Recommended surface types:
Ceramic, porcelain, and some non-acid sensitive natural stone, including granite, slate, sandstone, Saltillo and other clay-based tile.
DO NOT USE ON marble, limestone, travertine, onyx, and concrete.
Support Center: A-American Custom Flooring
Niles Branch - Web Sales
7777 N Caldwell Ave.,
Niles, IL 60714

Tel: (847) 966-0500
Fax: (847) 966-0507
Email:
This email address is being protected from spambots. You need JavaScript enabled to view it.

Chicago Branch
3221 W Irving Park Rd.,
Chicago, IL 60630

Tel: (773) 588-6200
Fax: (773) 588-6190
Email:
This email address is being protected from spambots. You need JavaScript enabled to view it.

Hawaii Branch - Contracting Office
96-1209 Waihona St.,
Pearl City, HI 96782

Tel: (808) 454-8888
Fax: (808) 454-8889
Email:
This email address is being protected from spambots. You need JavaScript enabled to view it.