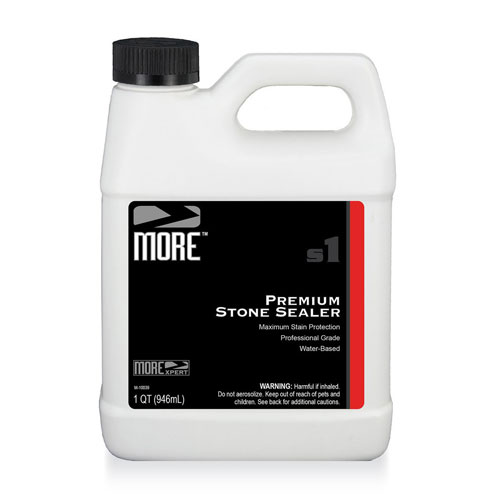 MORE Premium Stone Sealer 1 qt
Price per Unit (piece):
piece(s) in package: 1.00

SKU: 852230*006075
Dimensions: LxWxH - 0.00x0.00x0.00
Weight: 4.00 lb / package
In Stock: 25 (pieces)
Description
MORE Premium Stone Sealer (1 qt) is a high performance, water-based, penetrating natural stone sealer that forms an invisible barrier which provides maximum protection against the toughest oil and water-based stains. The right choice for the most demanding professionals and expert stone craftsmen.
see MORE Premium Stone Sealer 1 qt technical data sheet and safety data sheet
manufacturer part#: M-10039
packaging: 1 qt plastic container
available also in 1 gal plastic container packaging
Features:
• Water-Based
• Maximum Stain Protection
• Natural Look
• Safe and Easy to Use
• Low Odor
• VOC Compliant
• Safe on Food Contact Surfaces
• Interior and Exterior
• Professional Grade
Technical data:
• VOC Content: 60 g/L including water (Low Solids Coating)
• Cure Time: 24 hours
• Foot Trac: 6 hours after final application
• Coverage: Up to 1,000 sq. ft. per gallon for a single coat, depending on surface type and texture
• Expected Wear: Up to 8 years
Recommended surface types:
Natural stone, including granite, marble, slate, limestone, travertine, sandstone, bluestone, concrete, Saltillo and other clay-based tile.
Support Center: A-American Custom Flooring
Niles Branch - Web Sales
7777 N Caldwell Ave.,
Niles, IL 60714

Tel: (847) 966-0500
Fax: (847) 966-0507
Email:
This email address is being protected from spambots. You need JavaScript enabled to view it.

Chicago Branch
3221 W Irving Park Rd.,
Chicago, IL 60630

Tel: (773) 588-6200
Fax: (773) 588-6190
Email:
This email address is being protected from spambots. You need JavaScript enabled to view it.

Hawaii Branch - Contracting Office
96-1209 Waihona St.,
Pearl City, HI 96782

Tel: (808) 454-8888
Fax: (808) 454-8889
Email:
This email address is being protected from spambots. You need JavaScript enabled to view it.