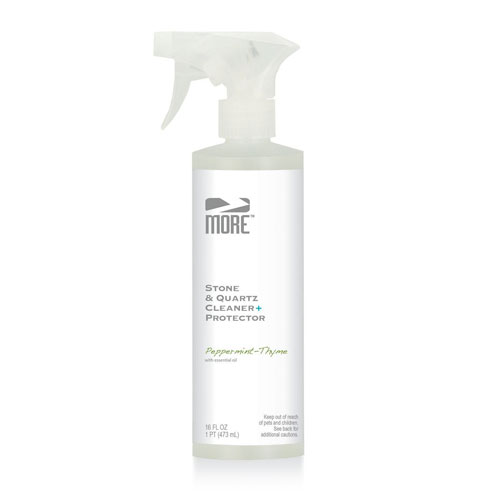 MORE Stone & Quartz Cleaner+Protector 16 oz Spray Bottle
Price per Unit (piece):
piece(s) in package: 1.00

SKU: 852230*006419
Dimensions: LxWxH - 0.00x0.00x0.00
Weight: 2.00 lb / package
In Stock: 8 (pieces)
Description
MORE Stone & Quartz Cleaner + Protector (16 oz) is a 2-in-1 daily cleaner and protector specifically formulated for cleaning and protecting natural stone and quartz surfaces. Gently dissolves dirt and grime without streaking and reinforces stain protection with every cleaning. Neutral pH formula is safe for everyday use – will NOT damage natural stone and quartz.
see MORE Stone & Quartz Cleaner + Protector technical data sheet and safety data sheet
manufacturer part#: M-10072
packaging: 16 oz plastic spray bottle
Features:
• Cleans & Protects
• Safe for Natural Stone and Quartz
• Fresh Scent
• Streak Free
• Gently Dissolves Dirt and Grime
• No Rinsing Required
Technical data:
• pH Measurement: 7.0
Recommended surface types:
Natural stone, including granite, marble, slate, limestone, travertine, sandstone, bluestone, concrete, Saltillo and other clay-based tile.
Ceramic and porcelain.
Support Center: A-American Custom Flooring
Niles Branch - Web Sales
7777 N Caldwell Ave.,
Niles, IL 60714

Tel: (847) 966-0500
Fax: (847) 966-0507
Email:
This email address is being protected from spambots. You need JavaScript enabled to view it.

Chicago Branch
3221 W Irving Park Rd.,
Chicago, IL 60630

Tel: (773) 588-6200
Fax: (773) 588-6190
Email:
This email address is being protected from spambots. You need JavaScript enabled to view it.

Hawaii Branch - Contracting Office
96-1209 Waihona St.,
Pearl City, HI 96782

Tel: (808) 454-8888
Fax: (808) 454-8889
Email:
This email address is being protected from spambots. You need JavaScript enabled to view it.