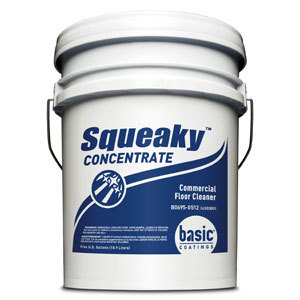 Squeaky Concentrate Cleaner 5 gal
Price per Unit (piece):
piece(s) in package: 1.00

SKU: 731648*001264
Dimensions: LxWxH - 0.00x0.00x0.00
Weight: 46.00 lb / package
In Stock: 2 (pieces)
Shipping: hazardous materials can only be shipped ground
Description
Squeaky is an excellent cleaner for wood and laminate floors. Tough on dirt, gentle on floors. Cleans without leaving a residue. It can also be used as a pre-cleaner during the finish or recoating process or as a regular maintenance cleaner.
Support Center: A-American Custom Flooring
Niles Branch - Headquarters
7777 N Caldwell Ave.,
Niles, IL 60714

Tel: (847) 966-0500
Fax: (847) 324-7248
Email:
This email address is being protected from spambots. You need JavaScript enabled to view it.

Chicago Branch
3221 W Irving Park Rd.,
Chicago, IL 60630

Tel: (773) 588-6200
Fax: (773) 588-6190
Email:
This email address is being protected from spambots. You need JavaScript enabled to view it.

Hawaii Branch
96-1209 Waihona St.,
Pearl City, HI 96782

Tel: (808) 454-8888
Fax: (808) 454-8889
Email:
This email address is being protected from spambots. You need JavaScript enabled to view it.