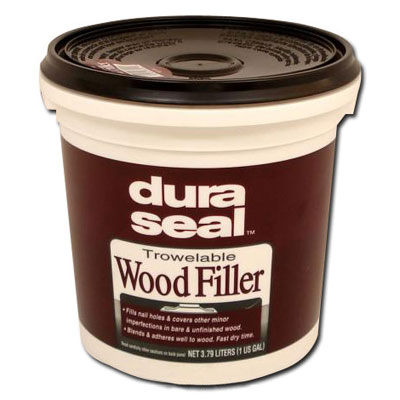 DuraSeal Trowelable Wood Filler Brazilian Cherry 1 gal
Price per Unit (piece):
piece(s) in package: 1.00

SKU: 027426*832251
Dimensions: LxWxH - 0.00x0.00x0.00
Weight: 20.00 lb / package
In Stock: 20 (pieces)
Description
DuraSeal Trowelable Wood Filler Brazilian Cherry is a safe, non-flammable, waterbased product for use across an entire wood floor. This product fills nail holes and covers other minor imperfections in bare and unfinished wood. It has a fast dry time, blends and adheres well to wood, sands easily and absorbs stain similarly to wood.
see DuraSeal Trowelable Wood Filler technical data sheet
manufacturer part# 832250000
packaging: 1 US gallon plastic pail
DIRECTIONS:
Surface preparation: surface must be free of dust, oil, wax and moisture.
Application:
- Pour moderate amount of DuraSeal Trowelable Wood Filler in needed area.
- Press filler into cracks and holes using an even-edge trowel.
- Allow to fully dry before doing final sanding.
- Sand surface to remove excess DuraSeal Trowelable Wood Filler.
Clean-Up:
Clean with water while Wood Filler is still damp.
Storage:
Keep containers tightly closed. Keep from freezing. If freezing occurs, thaw at room temperature for a minimum of 8 hours before using.
Support Center: A-American Custom Flooring
Niles Branch - Web Sales
7777 N Caldwell Ave.,
Niles, IL 60714

Tel: (847) 966-0500
Fax: (847) 966-0507
Email:
This email address is being protected from spambots. You need JavaScript enabled to view it.

Chicago Branch
3221 W Irving Park Rd.,
Chicago, IL 60630

Tel: (773) 588-6200
Fax: (773) 588-6190
Email:
This email address is being protected from spambots. You need JavaScript enabled to view it.

Hawaii Branch - Contracting Office
96-1209 Waihona St.,
Pearl City, HI 96782

Tel: (808) 454-8888
Fax: (808) 454-8889
Email:
This email address is being protected from spambots. You need JavaScript enabled to view it.