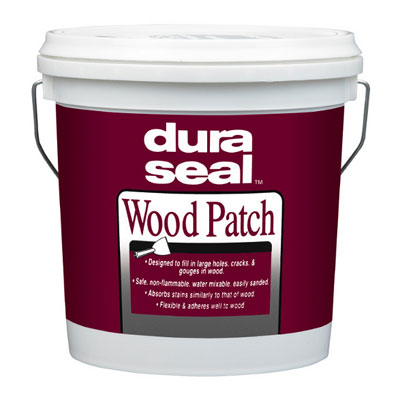 DuraSeal Wood Patch White Oak 1 gal
Price per Unit (piece):
piece(s) in package: 1.00

SKU: 027426*832107
Dimensions: LxWxH - 0.00x0.00x0.00
Weight: 20.00 lb / package
In Stock: 50 (pieces)
Description
DuraSeal Wood Patch White Oak is a safe, non-flammable, waterbased product designed to quickly and easily fill in large holes, cracks and gouges in wood. It sands easily, is flexible and adheres well to wood. It also absorbs stains similarly to wood.
see DuraSeal Wood Patch technical data sheet
manufacturer part# 83210000
packaging: 1 US gallon plastic pail
Directions:
Surface preparation: surface must be free of dust, oil, wax and moisture.
Application:
- Apply with a putty knife or trowel.
- Press patch into nail holes or minor imperfections keeping product slightly higher than the surface. Fill deep areas in layers while allowing ample time for each layer to dry.
Clean-Up:
Clean with water while Wood Patch is still damp.
Storage:
Keep containers tightly closed. Keep from freezing. If freezing occurs, thaw at room temperature for a minimum of 8 hours before using.
Support Center: A-American Custom Flooring
Niles Branch - Web Sales
7777 N Caldwell Ave.,
Niles, IL 60714

Tel: (847) 966-0500
Fax: (847) 966-0507
Email:
This email address is being protected from spambots. You need JavaScript enabled to view it.

Chicago Branch
3221 W Irving Park Rd.,
Chicago, IL 60630

Tel: (773) 588-6200
Fax: (773) 588-6190
Email:
This email address is being protected from spambots. You need JavaScript enabled to view it.

Hawaii Branch - Contracting Office
96-1209 Waihona St.,
Pearl City, HI 96782

Tel: (808) 454-8888
Fax: (808) 454-8889
Email:
This email address is being protected from spambots. You need JavaScript enabled to view it.