Powernails
    You can get now the strength and holding power of Powernail's Powercleats in a stainless steel nail. The new stainless steel Powercleats can be used in tongue and groove decking and flooring for applications requiring the corrosion resistance, resistance to oxidation at high temperatures and non-magnetic characteristics of stainless steel.
    Powercleats nails are made in the USA from USA produced high-quality steel so they do not bend while being driven into hard flooring materials. They are made with a well-formed set of barbs along each nail, providing the ultimate holding power. The design aids in driving them into hard flooring materials, which helps to eliminate split tongues in floorboards.
    When used in conjunction with Powernail's Powernailer® line of nailers, Powercleats® nails ensure trouble-free operation and optimum construction results.
    Powercleats nails are available in all sizes to fit all flooring applications and come in conveniently sized cartons.
    Powercleats nails are designed for use with Powernailer nailers, are superior-quality nails and are FHA and VA approved. They meet the requirements of the MFMA (Maple Flooring Manufacturers Association), NOFMA (National Oak Flooring Manufacturers Association) and NWFA (National Wood Flooring Association).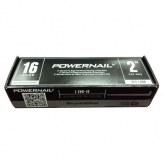 Powernail Powercleats 2" 16 gage nails are made with a well-formed set of barbs along both edges of the cleat/nail. This unique cleat design aids the driving of cleats into hard flooring materials.

Product details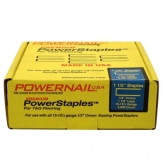 With Powernail PowerStaples 1-1/2" you can get flooring staples with the strength and holding power you need to build a floor you can depend on.

Product details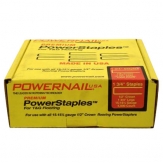 The Powernail PowerStaples 1-3/4" gets flooring staples with the strength and holding power you need to build a floor you can depend on.

Product details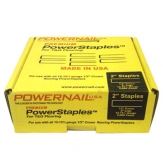 With Powernail PowerStaples 2" you can get flooring staples with the strength and holding power you need to build a floor you can depend on.

Product details
Support Center: A-American Custom Flooring
Niles Branch - Web Sales
7777 N Caldwell Ave.,
Niles, IL 60714

Tel: (847) 966-0500
Fax: (847) 966-0507
Email:
This email address is being protected from spambots. You need JavaScript enabled to view it.

Chicago Branch
3221 W Irving Park Rd.,
Chicago, IL 60630

Tel: (773) 588-6200
Fax: (773) 588-6190
Email:
This email address is being protected from spambots. You need JavaScript enabled to view it.

Hawaii Branch - Contracting Office
96-1209 Waihona St.,
Pearl City, HI 96782

Tel: (808) 454-8888
Fax: (808) 454-8889
Email:
This email address is being protected from spambots. You need JavaScript enabled to view it.