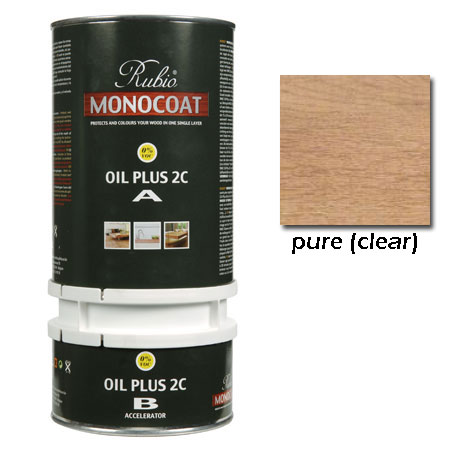 Rubio Monocoat Oil Plus 2C Finish Pure 1.3 Liters
Price per Unit (piece):
piece(s) in package: 1.00

SKU: RUBIO*2CPUR1.3L
Dimensions: LxWxH - 0.00x0.00x0.00
Weight: 5.00 lb / package
In Stock: 37 (pieces)
Description
Rubio Monocoat Oil Plus 2C is a 2-component oil finishing system, consisting of Monocoat Oil Plus (A) and Accelerator (B) that is very suitable for indoor applications which require quick curing. Monocoat Oil Plus 2C is applied in one layer and cures in 5 days - learn more. This product is also extremely suitable for industrial applications, both with oxidative and UV processes.
color: Pure (Clear)

see Rubio Monocoat Oil Plus 2C color chart Rubio Monocoat Oil Plus 2C color chart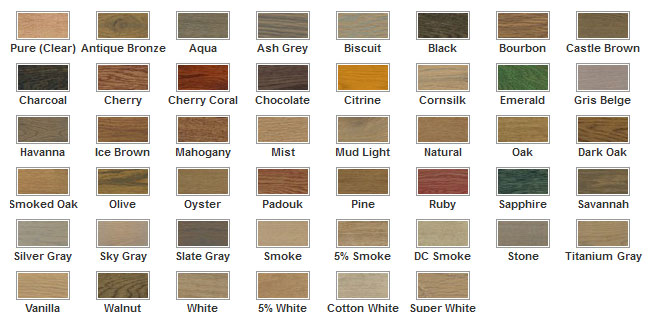 see Rubio Monocoat Oil Plus 2C product data sheet
Specific Features:
- Molecular bonding with the wood: durable protection!
- 100 % VOC-FREE!
- Respects the natural 'look and feel' of the wood
- Low consumption
- No starting marks or overlaps
- Easy to maintain
- Doesn't contain water
- Applies to all kinds of wood, including furniture and floors (solid wood, veneer wood, MDF, etc...)
- Durable protection, highly resistant to wear
- Water-resistant: (suited for kitchens, bathrooms)
- Resistant to heat up to 212 ºF
- Fast curing
Consumption: Depending on the wood type, sanding and application method:
- Pure (clear) Oil: +/- 500 s.f. per liter;
- Color Oils: +/- 350 s.f. per liter.
Industrial Applications:
For application with oxidative and UV drying systems. The equipment used can be cleaned with Rubio Monocoat Raw Wood Cleaner.
Technical Specifications:
Oil Plus 2C (A)
- Physical state at 20°C: liquid
- Odor: natural oil
- Color: transparent
Accelerator (B)
- Physical state: liquid
- Odor: none
- Color: colorless to pale yellow
Package:
Combined can of 1.3 liters: 1 L Oil Plus and 0.3 L Accelerator
NO RETURNS OR EXCHANGES ON LIQUID PRODUCTS
Support Center: A-American Custom Flooring
Niles Branch - Web Sales
7777 N Caldwell Ave.,
Niles, IL 60714

Tel: (847) 966-0500
Fax: (847) 966-0507
Email:
This email address is being protected from spambots. You need JavaScript enabled to view it.

Chicago Branch
3221 W Irving Park Rd.,
Chicago, IL 60630

Tel: (773) 588-6200
Fax: (773) 588-6190
Email:
This email address is being protected from spambots. You need JavaScript enabled to view it.

Hawaii Branch - Contracting Office
96-1209 Waihona St.,
Pearl City, HI 96782

Tel: (808) 454-8888
Fax: (808) 454-8889
Email:
This email address is being protected from spambots. You need JavaScript enabled to view it.