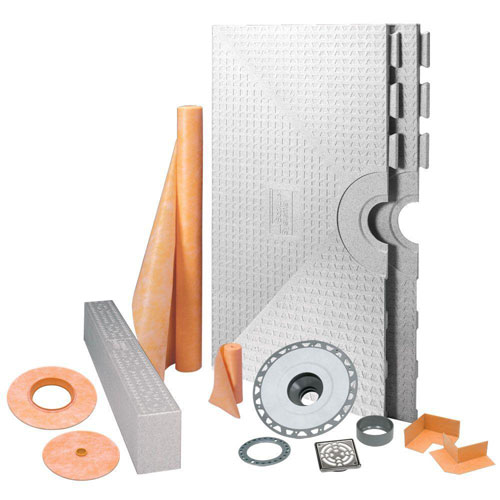 Schluter Kerdi Shower Kit 48"x48" Stainless Steel PVC KK122PVCE
Price per Unit (piece):
piece(s) in package: 1.00

SKU: SCHLUT*KK122/PVC
Dimensions: LxWxH - 0.00x0.00x0.00
Weight: 90.00 lb / package
Description
Schluter Kerdi Shower Kit 48"x48" Stainless Steel Drain Cover - PVC is an all inclusive package containing each of the components required to create a maintenance-free, watertight shower assembly without a mortar bed.
manufacturer part# KK122PVCE
UPC: 4011832060113
Schluter-KERDI-SHOWER-ST/-SC are prefabricated substrates, made of expanded polystyrene foam, for tiled shower bases in conjunction with Schluter-KERDI waterproofing membrane and Schluter-KERDI-DRAIN. Schluter-KERDI-SHOWER-ST is a prefabricated, sloped shower tray that is specifically designed to accept the Schluter-KERDI-DRAIN and Schluter-KERDI waterproofing membrane.
Tray dimensions: 48" x 48" (122 cm x 122 cm)
The integrated Schluter-Shower System eliminates the potential for leakage, efflorescence, and mold growth in the system, is maintenance-free, and dramatically reduces total installation time to ensure success and make shower installation easier than ever. Schluter prefabricated shower substrates provide an alternative to shower bases constructed of mortar. The shower tray and curb are especially useful in large-scale, repetitive jobs, such as hotels, apartments, and condominiums for the significant time savings that can be realized.
Kit includes:
• 1 pc KERDI-SHOWER-ST - shower tray, 48" x 48" (122 cm x 122 cm)
• 1 pc KERDI-SHOWER-SC - shower curb, 48" x 6" x 4-1/2" (122 cm x 15 cm x 11.5 cm)
• 1 pc KERDI - Waterproofing membrane, 3' 3" x 39'4" (1 m x 12 m)
• 1 pc KERDI-BAND - waterproofing strip, 5" x 33' (125 mm x 10 m)
• 1 pc KERDI-DRAIN - stainless steel drain, with integrated bonding flange
• 4 pcs KERDI-KERECK-F - waterproofing corners – inside
• 2 pcs waterproofing corners – outside
Support Center: A-American Custom Flooring
Niles Branch - Web Sales
7777 N Caldwell Ave.,
Niles, IL 60714

Tel: (847) 966-0500
Fax: (847) 966-0507
Email:
This email address is being protected from spambots. You need JavaScript enabled to view it.

Chicago Branch
3221 W Irving Park Rd.,
Chicago, IL 60630

Tel: (773) 588-6200
Fax: (773) 588-6190
Email:
This email address is being protected from spambots. You need JavaScript enabled to view it.

Hawaii Branch - Contracting Office
96-1209 Waihona St.,
Pearl City, HI 96782

Tel: (808) 454-8888
Fax: (808) 454-8889
Email:
This email address is being protected from spambots. You need JavaScript enabled to view it.