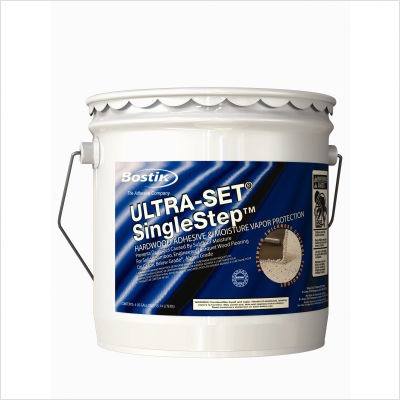 Bostik's Ultra-Set Single Step Adhesive 4 gal
Price per Unit (piece):
piece(s) in package: 1.00

SKU: 747224*698308
Dimensions: LxWxH - 0.00x0.00x0.00
Weight: 64.00 lb / package
In Stock: 13 (pieces)
Description
Bostik's Ultra-Set® SingleStep™is a one-part, trowel applied, tacking, moisture-cure urethane adhesive, Moisture Vapor and Sound Reduction Membrane. This scientifically-formulated adhesive and membrane is very tenacious, has very low moisture permeability, and is formulated with patent pending Thickness-Control™ Spacer Technology to ensure proper membrane thickness between hardwood flooring and the substrate. Bostik's Ultra-Set SingleStep does NOT contain any water, and has zero VOC as per SCAQMD 1168. Square foor coverage: Wood flooring greater than 5/8" = 20 sf; flooring up to 5/8" = 30 sf; flooring up to 3/8" 35 sf per gallon.
Support Center: A-American Custom Flooring
Niles Branch - Headquarters
7777 N Caldwell Ave.,
Niles, IL 60714

Tel: (847) 966-0500
Fax: (847) 324-7248
Email:
This email address is being protected from spambots. You need JavaScript enabled to view it.

Chicago Branch
3221 W Irving Park Rd.,
Chicago, IL 60630

Tel: (773) 588-6200
Fax: (773) 588-6190
Email:
This email address is being protected from spambots. You need JavaScript enabled to view it.

Hawaii Branch
96-1209 Waihona St.,
Pearl City, HI 96782

Tel: (808) 454-8888
Fax: (808) 454-8889
Email:
This email address is being protected from spambots. You need JavaScript enabled to view it.