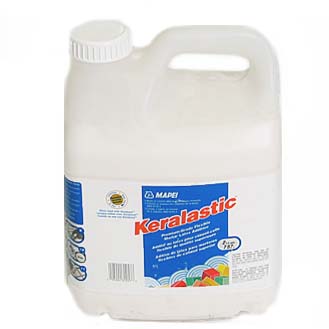 Mapei Keralastic Additive 2 gal
Price per Unit (piece):
piece(s) in package: 1.00

SKU: 093994*310576
Dimensions: LxWxH - 0.00x0.00x0.00
Weight: 17.50 lb / package
In Stock: 33 (pieces)
Description
Premium Flexible Mortar System. The Kerabond/Keralastic System is the original and time-proven premium flexible mortar system designed for difficult-to-bond-to natural stone, large porcelain tile and glass-bodied tile. Kerabond/Keralastic System is a high-performance, two-part system: Keralastic™, a second-generation flexible acrylic latex additive used to enhance the performance of Kerabond™, which is a premium-grade dry-set mortar. This system has exceptional bond strength, flexural strength, elongation and freeze/thaw durability. To ensure proper flexibility, always use a latex additive when applying a dry set mortar over plywood or to set nonvitreous tiles.
Support Center: A-American Custom Flooring
Niles Branch - Headquarters
7777 N Caldwell Ave.,
Niles, IL 60714

Tel: (847) 966-0500
Fax: (847) 324-7248
Email:
This email address is being protected from spambots. You need JavaScript enabled to view it.

Chicago Branch
3221 W Irving Park Rd.,
Chicago, IL 60630

Tel: (773) 588-6200
Fax: (773) 588-6190
Email:
This email address is being protected from spambots. You need JavaScript enabled to view it.

Hawaii Branch
96-1209 Waihona St.,
Pearl City, HI 96782

Tel: (808) 454-8888
Fax: (808) 454-8889
Email:
This email address is being protected from spambots. You need JavaScript enabled to view it.