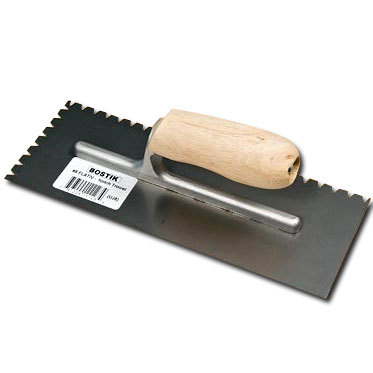 Bostik #4 Square Notch Adhesive Trowel
Price per Unit (piece):
piece(s) in package: 1.00

SKU: 047224*111259
Dimensions: LxWxH - 0.00x0.00x0.00
Weight: 1.00 lb / package
Description
Bostik #4 Square-Notch Adhesive Trowel
see Bostik Adhesive Trowel product description
manufacturer part# B11125
size: 1/4" wide x 1/4" deep
Bostik trowel size is suggested to maximize coverage of adhesive. Periodically, check coverage of adhesive during installations.
For moisture control:
• 100% coverage is required for solid wood flooring that is less than 1/2" thick or any bamboo wood flooring;
• >95% coverage is required for all other wood flooring.
For bonding only, check coverage to insure there is 80% coverage for engineered and >95% for all solid wood flooring and bamboo. Uneven subflooring may require the use of either a leveling/patching material, or a larger notched trowel for proper coverage of adhesive.
Support Center: A-American Custom Flooring
Niles Branch - Web Sales
7777 N Caldwell Ave.,
Niles, IL 60714

Tel: (847) 966-0500
Fax: (847) 966-0507
Email:
This email address is being protected from spambots. You need JavaScript enabled to view it.

Chicago Branch
3221 W Irving Park Rd.,
Chicago, IL 60630

Tel: (773) 588-6200
Fax: (773) 588-6190
Email:
This email address is being protected from spambots. You need JavaScript enabled to view it.

Hawaii Branch - Contracting Office
96-1209 Waihona St.,
Pearl City, HI 96782

Tel: (808) 454-8888
Fax: (808) 454-8889
Email:
This email address is being protected from spambots. You need JavaScript enabled to view it.