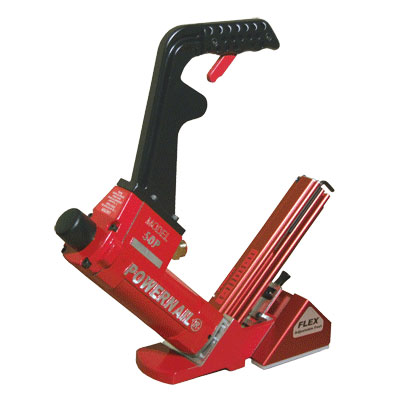 Powernail 50P FLEX 18 Gage Pneumatic Nailer
Price per Unit (piece):
piece(s) in package: 1.00

SKU: POWflexp
Dimensions: LxWxH - 0.00x0.00x0.00
Weight: 7.50 lb / package
In Stock: 5 (pieces)
Description
Powernail 50P FLEX 18 Gage Pneumatic Nailer is a pneumatic Powernailer designed for 18 gage cleats. Truly a flexible nailer, the Powernail Flex can nail down the wide variety of solid and engineered flooring found in today's market. Using the adjustable foot, you can fine-tune the nailer height according to different wood profiles. No need for extra shims and pads! The Powernail Flex is recommended for use on 3/8", 1/2" and 5/8" Tongue and Groove flooring as well as some 3/4" exotics, bamboo, and other solid or engineered wood flooring. The Powernail Flex uses an 18 gage cleat that is less likely to split the tongue on denser, more brittle woods. It is also recommended for flooring that is a very hard species like hickory. Many of the hard exotics available today require a thinner cleat to penetrate without splitting the tongue. The standard configuration is (L/S), Long Handle with Short Channel, which holds 100 Powercleats®. Long handle configuration provides 18" height from floor to handle grip.
manufacturer part# 02-50PFLEXW
made in USA
Nailer package includes:
- a White 3mi Mallet
- 2 Allen wrenches
- user manual
- lube oil
- extra driving blade
- 2 box wrenches.
Requires a 70 to 110 psi air compressor.
Call us or visit our stores to find out more information from our flooring tools specialist.
Support Center: A-American Custom Flooring
Niles Branch - Web Sales
7777 N Caldwell Ave.,
Niles, IL 60714

Tel: (847) 966-0500
Fax: (847) 966-0507
Email:
This email address is being protected from spambots. You need JavaScript enabled to view it.

Chicago Branch
3221 W Irving Park Rd.,
Chicago, IL 60630

Tel: (773) 588-6200
Fax: (773) 588-6190
Email:
This email address is being protected from spambots. You need JavaScript enabled to view it.

Hawaii Branch - Contracting Office
96-1209 Waihona St.,
Pearl City, HI 96782

Tel: (808) 454-8888
Fax: (808) 454-8889
Email:
This email address is being protected from spambots. You need JavaScript enabled to view it.