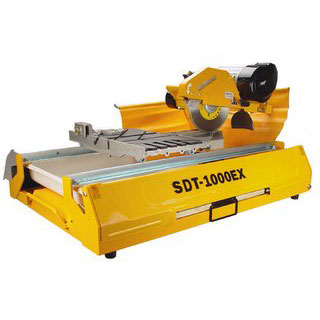 SawMaster SDT-1000EX Tile Saw
Price per Unit (piece):
piece(s) in package: 1.00

SKU: SAWMS.*SDT1000EX
Dimensions: LxWxH - 0.00x0.00x0.00
Weight: 125.00 lb / package
Description
The SawMaster SDT-1000EX is a wet tile & stone saw intended for flooring professional jobs. This tile saw was designed from the beginning to cope with the challenges of handling oversized materials. Both, a wider cutting table and longer frame have allowed this saw to cut tiles up to 24" straight and 16" diagonally. The tile&stone saw incorporates numerous features that allow it to excel at its role, including a swiveling cutting head which can be tilted 45° to permit miter cuts without requiring additional tools. This model, like all latest generation EX tile saws, includes a built-in toolbox, a retractable workbench, and wheels for operation convenience and ease in transportation.
manufacturer part# SDT-1000EX
Features:
• ABS Water Tray
• Water Pump
• Adjustable Cutting Height
• Rubber Matted Cutting Table
• Table Retention Device
• Thermal Overload Protection
• Blade Guard with Brushes
• Water Tray Bracket
• LCBH
Specifications:
• saw type: tile
• motor: 115 V/60 Hz
• horsepower: 1-1/2 HP
• blade capacity: 6"~10"
• blade arbor: 5/8"
• RPM: 3200
• weight: 135 lbs
• cutting depth: 3-1/2"
• rip cutting: 24"
• diagonal cutting: 16"
• thermal protection: equipped
• PP water tray: equipped
• LCBH: equipped
Ask our tile & stone saw specialist for more information.
Support Center: A-American Custom Flooring
Niles Branch - Web Sales
7777 N Caldwell Ave.,
Niles, IL 60714

Tel: (847) 966-0500
Fax: (847) 966-0507
Email:
This email address is being protected from spambots. You need JavaScript enabled to view it.

Chicago Branch
3221 W Irving Park Rd.,
Chicago, IL 60630

Tel: (773) 588-6200
Fax: (773) 588-6190
Email:
This email address is being protected from spambots. You need JavaScript enabled to view it.

Hawaii Branch - Contracting Office
96-1209 Waihona St.,
Pearl City, HI 96782

Tel: (808) 454-8888
Fax: (808) 454-8889
Email:
This email address is being protected from spambots. You need JavaScript enabled to view it.