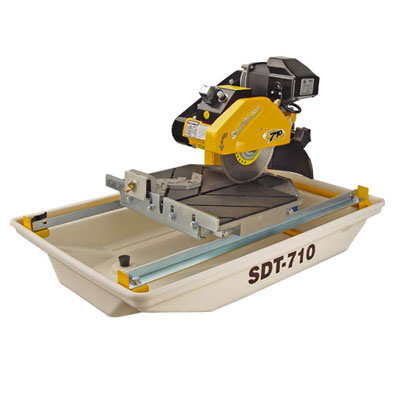 SawMaster SDT-710 Tile Saw
Price per Unit (piece):
piece(s) in package: 1.00

SKU: SAWMS.*SDT-710
Dimensions: LxWxH - 0.00x0.00x0.00
Weight: 58.00 lb / package
Description
The latest generation of the SawMaster SDT-710 tile & stone boasts several improvements over its predecessor. This tile saw's unique endoframe design yields significant weight savings due to its reliance on the surrounding water tray for support. And with the introduction of more resilient polypropylene trays, the SDT-710 tile saw is able to achieve a greater level of durability, which lends additional support for the upgraded 1 HP motor.
manufacturer part# SDT-710
Features:
• ABS Water Tray
• Adjustable Cutting Height
• Table Retention Device
• Thermal Overload Protection
• Rubber Matted Cutting Table
• Carbon Brush Motor
• LCBH
Specifications:
• saw type: tile
• motor: 115 V/60 Hz
• horsepower: 1 HP
• blade capacity: 6"~7"
• blade arbor: 5/8"
• RPM: 6000
• weight: 43 lbs
• cutting depth: 1-3/4"
• rip cutting: 17"
• diagonal cutting: 12"x12"
• thermal protection: equipped
• ABS water tray: equipped
• LCBH: equipped
Call us or visit our stores to find out more information from our tile & stone flooring tools specialist.
Support Center: A-American Custom Flooring
Niles Branch - Web Sales
7777 N Caldwell Ave.,
Niles, IL 60714

Tel: (847) 966-0500
Fax: (847) 966-0507
Email:
This email address is being protected from spambots. You need JavaScript enabled to view it.

Chicago Branch
3221 W Irving Park Rd.,
Chicago, IL 60630

Tel: (773) 588-6200
Fax: (773) 588-6190
Email:
This email address is being protected from spambots. You need JavaScript enabled to view it.

Hawaii Branch - Contracting Office
96-1209 Waihona St.,
Pearl City, HI 96782

Tel: (808) 454-8888
Fax: (808) 454-8889
Email:
This email address is being protected from spambots. You need JavaScript enabled to view it.