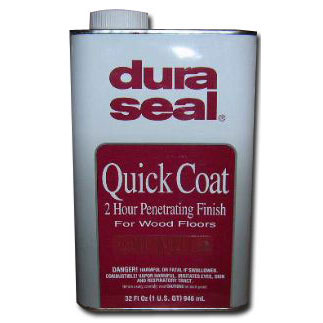 DuraSeal Quick Coat Penetrating Finish 123 Coffee Brown Hardwood Flooring Stain 1 qt
Price per Unit (piece):
piece(s) in package: 1.00

SKU: 027426*861237
Dimensions: LxWxH - 0.00x0.00x0.00
Weight: 2.00 lb / package
In Stock: 282 (pieces)
Description
DuraSeal Quick Coat Penetrating Finish 123 Coffee Brown Hardwood Flooring Stain is a semi-transparent stain formulated to seal, color and provide exceptional durability when used on bare wood and masonry surfaces. This rich blend of oil and resin gives hardwood floors a soft, satiny sheen. Its unique formulation provides a surface that can be topcoated in two hours. DuraSeal Quick Coat Penetrating Finish is available in existing DuraSeal colors as well as many Certified Minwax colors ( click to explore Minwax stains ). It can be used with or without a finish coat, and is compatible with all DuraSeal water-borne and oil-modified finish systems.
see DuraSeal Quick Coat technical data sheet
see DuraSeal Quick Coat color chart
manufacturer part# 861230000
packaging: 1 qt metal can
PRODUCT PROPERTIES:
• Dry time and cure: approximately 2-3 hours; note - dry time is based on conditions of 77˚ and 50% relative humidity.
• Coverage: first coat - approximately 500 sq.ft. per gallon; optional second coat - approximately 800 sq.ft. per gallon.
• Clean up: application tools should be cleaned with mineral spirits or paint thinner immediately after use.
• Solvent: non-photochemically reactive.
• Maintenance:
- Regularly remove dust and dirt by sweeping or vacuuming; periodic buffing will renew luster.
- Exceptionally worn areas may require an additional finish coat. Maintain floors sealed only with DuraSeal Quick Coat
• Penetrating Finish with DuraSeal Renovator Cleaner and Reconditioner.
• Storage: Store at room temperature. If stored at high temperature, cool to room temperature before use. Keep from freezing.
PHYSICAL PROPERTIES: (Typical ranges)
• Density: 6.9-7.5 lbs/gal
• Viscosity: 22-65 centipoise
• % Solids: 33-42%
• VOC: 550 grams/liter or 4.6 lbs/gal maximum
Support Center: A-American Custom Flooring
Niles Branch - Web Sales
7777 N Caldwell Ave.,
Niles, IL 60714

Tel: (847) 966-0500
Fax: (847) 966-0507
Email:
This email address is being protected from spambots. You need JavaScript enabled to view it.

Chicago Branch
3221 W Irving Park Rd.,
Chicago, IL 60630

Tel: (773) 588-6200
Fax: (773) 588-6190
Email:
This email address is being protected from spambots. You need JavaScript enabled to view it.

Hawaii Branch - Contracting Office
96-1209 Waihona St.,
Pearl City, HI 96782

Tel: (808) 454-8888
Fax: (808) 454-8889
Email:
This email address is being protected from spambots. You need JavaScript enabled to view it.