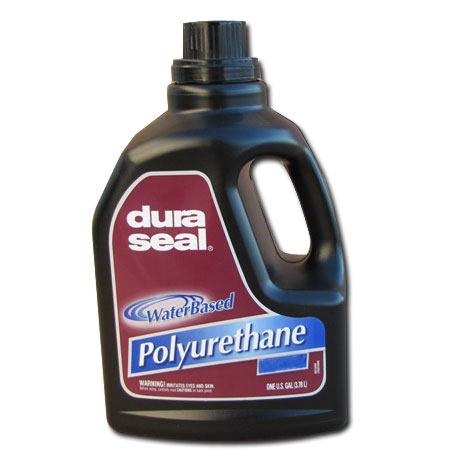 DuraSeal Waterbased Polyurethane Hardwood Floor Finish Matte 1 gal
Price per Unit (piece):
piece(s) in package: 1.00

SKU: 027426*806153
Dimensions: LxWxH - 0.00x0.00x0.00
Weight: 10.00 lb / package
In Stock: 66 (pieces)
Description
DuraSeal Waterbased Polyurethane Hardwood Floor Finish (matte sheen) is a single component urethane resin that provides the look and durability of traditional oil based polyurethane. Its unique technology applies as easily as DuraSeal Polyurethane with the ease of water cleanup.
see DuraSeal DuraClear Floor Finish technical data sheet
manufacturer part# 806150000
packaging: 1 gal plastic bottle
Physical properties:
• Resin Type: urethane
• Density (lbs/gal): 8.77 - 8.82
• Viscocity: 100 - 180 centipoise
• %Solids: 30.0 - 31.0
• pH: 7 - 9
• VOC: 275 g/l or 2.3 lb/gal max.
• Flash Point: > 200°F (Pensky-Martens Method ASTM D-93)
Dry time and cure:
• Recoat time: 2-3 hours between coats
• Light foot traffic is acceptable after 24 hours
• Allow one week before exposing finish to rugs, cleaners, spills or heavy traffic
Coverage:
• Apply at 500 sq.ft. per gallon
Clean-up:
• Application tools should be cleaned with warm water immediately after use.
Maintenance:
• Use walk-off mats at all entrance doorways to keep dirt and grit to a minimum. Sweep or vacuum daily and damp wipe as needed with DuraSeal® Hardwood Floor Cleaner. Do not use all-purpose cleaner/degreaser products.
Storage:
• Store at room temperature. If stored at high temperature, cool to room temperature before use. Keep from freezing. If frozen, slowly warm to room temperature and mix thoroughly before using.
Support Center: A-American Custom Flooring
Niles Branch - Web Sales
7777 N Caldwell Ave.,
Niles, IL 60714

Tel: (847) 966-0500
Fax: (847) 966-0507
Email:
This email address is being protected from spambots. You need JavaScript enabled to view it.

Chicago Branch
3221 W Irving Park Rd.,
Chicago, IL 60630

Tel: (773) 588-6200
Fax: (773) 588-6190
Email:
This email address is being protected from spambots. You need JavaScript enabled to view it.

Hawaii Branch - Contracting Office
96-1209 Waihona St.,
Pearl City, HI 96782

Tel: (808) 454-8888
Fax: (808) 454-8889
Email:
This email address is being protected from spambots. You need JavaScript enabled to view it.