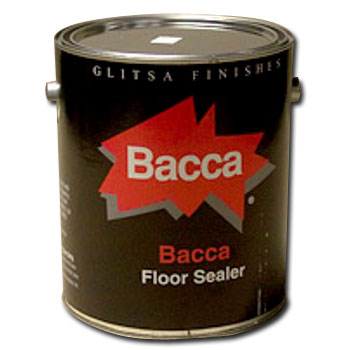 Glitsa Bacca Floor Sanding Sealer 1 gal
Price per Unit (piece):
piece(s) in package: 1.00

SKU: GLBAC.*SEAL1GAL
Dimensions: LxWxH - 0.00x0.00x0.00
Weight: 10.00 lb / package
In Stock: 33 (pieces)
Shipping: hazardous materials can only be shipped ground
Description
Glitsa Bacca Floor Sanding Sealer is a two-component sealer designed for use with Glitsa Gold Seal and Gold Seal Lite Scent. Glitsa Bacca is supplied with a hardener. New and improved Gold Seal Stains are formulated for use under the Glitsa System, oil-modified polyurethane, and most waterborne finishes.
see Glitsa Bacca Floor Sanding Sealer spec sheet file
packaging: 1 gal. metal can
Application over stains:
- for best results, use Bacca over Gold Seal stains
- follow direction on stain label
- previous finishes other than Gold Seal finishes, must be completely removed before application of Bacca
Product specification:
• Product classification: conversion varnish
• Cast: slightly amber
• Scent: strong alcohol
• Clarity: semi-transparent
• Solids % by weight: 40%
• Viscosity (#2 Zahn): 23 sec.
• Boiling point: 108˚-277˚
• Flash point: 51˚
• Pounds/gallon: 7.87
• Leveling: excellent
• Drying time: 4-5 hours to touch
• Maximum cure: 60-90 days
• Coverage/gallon: 300-350 sq. ft.
• VOC: 549 grams/liter (after adding hardener)
• Shelf life: One year in unopened container
• Pot life: After the hardener is added, the pot life of Bacca is 24 hours. Increased temperatures will reduce pot life.
Support Center: A-American Custom Flooring
Niles Branch - Web Sales
7777 N Caldwell Ave.,
Niles, IL 60714

Tel: (847) 966-0500
Fax: (847) 966-0507
Email:
This email address is being protected from spambots. You need JavaScript enabled to view it.

Chicago Branch
3221 W Irving Park Rd.,
Chicago, IL 60630

Tel: (773) 588-6200
Fax: (773) 588-6190
Email:
This email address is being protected from spambots. You need JavaScript enabled to view it.

Hawaii Branch - Contracting Office
96-1209 Waihona St.,
Pearl City, HI 96782

Tel: (808) 454-8888
Fax: (808) 454-8889
Email:
This email address is being protected from spambots. You need JavaScript enabled to view it.