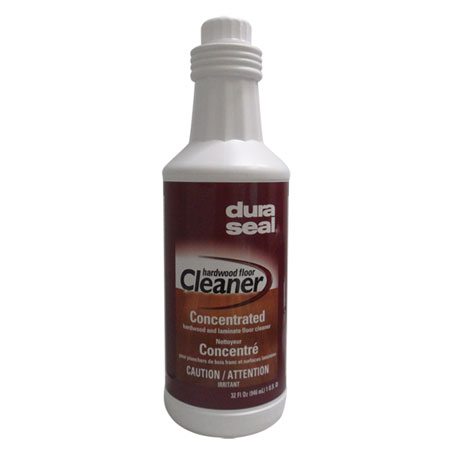 DuraSeal Hardwood Floor Cleaner Concentrated 32 oz
Price per Unit (piece):
piece(s) in package: 1.00

SKU: 027426*867246
Dimensions: LxWxH - 0.00x0.00x0.00
Weight: 3.00 lb / package
Description
DuraSeal Hardwood Floor Cleaner (concentrated) is the professionals choice for wood floor finishes. This product has been specially formulated to help you maintain the natural beauty of your hardwood floors.
DuraSeal Hardwood Floor Cleaner is intended for use on all wood floors coated with a clear unwaxed finish, including polyurethane and waterbased finishes. Use regularly to gently remove dint and grime without leaving a soap film residue. This product has been exclusively formulated to be used full-strength; do not add water. Not for use on waxed, oiled or unfinished wood. Solvent free.
see DuraSeal Hardwood Floor Cleaner technical data sheet
manufacturer part# 867240000
Support Center: A-American Custom Flooring
Niles Branch - Web Sales
7777 N Caldwell Ave.,
Niles, IL 60714

Tel: (847) 966-0500
Fax: (847) 966-0507
Email:
This email address is being protected from spambots. You need JavaScript enabled to view it.

Chicago Branch
3221 W Irving Park Rd.,
Chicago, IL 60630

Tel: (773) 588-6200
Fax: (773) 588-6190
Email:
This email address is being protected from spambots. You need JavaScript enabled to view it.

Hawaii Branch - Contracting Office
96-1209 Waihona St.,
Pearl City, HI 96782

Tel: (808) 454-8888
Fax: (808) 454-8889
Email:
This email address is being protected from spambots. You need JavaScript enabled to view it.