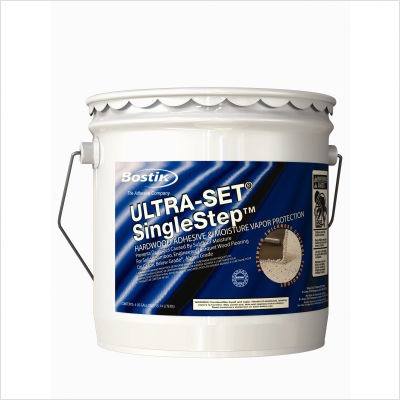 Bostik's Ultra-Set SingleStep Wood Flooring Adhesive 4 gal
Price per Unit (piece):
piece(s) in package: 1.00

SKU: 747224*698308
Dimensions: LxWxH - 0.00x0.00x0.00
Weight: 64.00 lb / package
In Stock: 1 (pieces)
Description
Bostik's Ultra-Set SingleStep Wood Floor Adhesive see technical data sheet
packaging: 4 U.S. gals. (15,14 L) metal pail
Bostik's Ultra-Set SingleStep wood flooring adhesive is a one-part, trowel applied, tacking, moisture-cure urethane adhesive, moisture vapor and round reduction membrane. This scientifically-formulated adhesive and membrane is very tenacious, has very low moisture permeability, and is formulated with patent pending Thickness-Control™ Spacer Technology to ensure proper membrane thickness between hardwood flooring and the substrate. Bostik's Ultra-Set SingleStep does NOT contain any water, and has zero VOC as per SCAQMD 1168.
Directions for use:
Read and understand data sheet and material safety data sheet completely before beginning installation. Follow NWFA industry standards and wood flooring manufacturer's recommendations for acclimation, design, layout and application of wood flooring material. If jobsite conditions are outside of wood flooring manufacturer''s recommendations, take necessary corrective actions.
To address current or possible future subfloor moisture, sound, and cracks (up to 1/8"), apply Ultra-Set SingleStep as directed.
Surface preparation:
Surfaces must be absorptive, clean, free from loose materials, oil, grease, sealers, curing compounds, waxes, silicates, laitance, and all other surface contaminants that may inhibit proper bond. Completely remove cutback adhesive residue or other surface contamintants by diamond grinding to open the pores of the concrete. All surfaces to be treated must have a concrete surface profile of CSP 2-3 (similar to a light broom finish), as define by ICRI (International Concrete Repair Institute, Guideline No. 03732). While there is no upper limit on the moisture vapor emission rate (and therefore anhydrous calcium chloride testing is not necessary) it is critical that the concrete be dry to the touch to properly bond. Maximum acceptable floor variation is 3/16" in 10 feet. Areas requiring patching or leveling must be done using a Portland cement-based material (e.g., Bostik UltraFinish™, Bostik Webcrete® 95 or Bostik SL-150™ Self-Leveling Underlayment).
Technical specifications:
• Application Temperature: 50°F to 100°F
• Service Temperature: -40°F to 150°F
• Odor: Mild
• Color: White with black specs
• Weight: 14.7 lbs./gallon
• Cure Time:
- Light foot traffic: 6 to 8 hours
- Normal foot traffic: 12 to 16 hours
• VOC Compliant (SCAQMD Rule 1168): Yes (0 g/L)
• Coverage: 20-30 sq.ft./gallon
• Required Notched Trowel for Maximum Performance: 1/2"x15/32" V-Notch or 1/4"x1/4" V-Notch
Support Center: A-American Custom Flooring
Niles Branch - Web Sales
7777 N Caldwell Ave.,
Niles, IL 60714

Tel: (847) 966-0500
Fax: (847) 966-0507
Email:
This email address is being protected from spambots. You need JavaScript enabled to view it.

Chicago Branch
3221 W Irving Park Rd.,
Chicago, IL 60630

Tel: (773) 588-6200
Fax: (773) 588-6190
Email:
This email address is being protected from spambots. You need JavaScript enabled to view it.

Hawaii Branch - Contracting Office
96-1209 Waihona St.,
Pearl City, HI 96782

Tel: (808) 454-8888
Fax: (808) 454-8889
Email:
This email address is being protected from spambots. You need JavaScript enabled to view it.