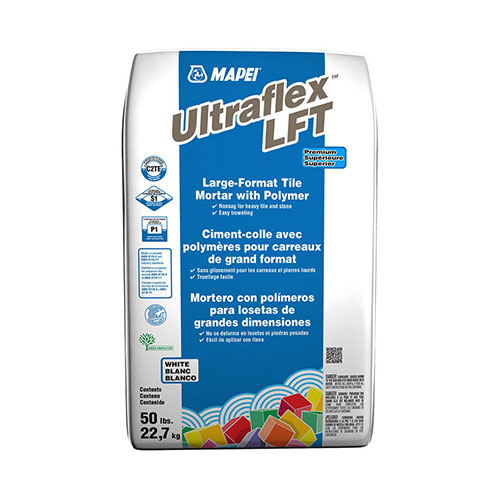 Mapei Ultraflex LFT White Mortar 50 lbs
Price per Unit (piece):
piece(s) in package: 1.00

SKU: 093994*113504
Dimensions: LxWxH - 0.00x0.00x0.00
Weight: 50.00 lb / package
In Stock: 210 (pieces)
Description
Mapei Ultraflex LFT White Mortar see technical data sheet
manufacturer part# 11350000
packaging: paper bag of 50 lbs. (22,7 kg)
Mapei Ultraflex LFT is a premium, nonsag medium-bed and thin-set mortar for large-format and heavy tile and stone for interior/exterior floor, wall and countertop installations. This mortar has a high content of unique dry polymer, resulting in excellent adhesion to the substrate and tile. It is formulated with Easy Glide Technology™ for ease of application.
Features and benefits:
• Polymer-enriched for high performance and deformability
• Nonsag formula for large-format tile and stone in wall applications
• Nonslump for large-format tile and stone in floor applications. Can be used as a medium bed up to 3/4" (19 mm) thick.
• Smooth and creamy consistency makes it easy to apply.
Where to use:
• Interior/exterior residential and commercial installations on floors and walls in dry and wet areas (see wall specifications under "Limitations")
• Installation of ceramic and porcelain tile; cultured stone; quarry tile; pavers; Saltillo tile; and most types of marble, granite and natural stone
Limitations:
• Install only at temperatures between 40°F and 95°F (4°C and 35°C).
• Do not use for moisture-sensitive stone (green marble; some limestone and granite), agglomerate tiles, cultured marble or resin-backed tiles. Instead, use suitable epoxy or urethane adhesives. See the respective Technical Data Sheet for more information.
• Do not use over dimensionally unstable substrates such as hardwood flooring, oriented strand board (OSB), substrates containing asbestos, or metal. See the "Suitable Substrates" section.
• To use directly over gypsum-based patching or leveling substrates, apply a suitable sealer before use.
• Use a white mortar when installing light-colored stones and translucent marble.
• Consult local building code requirements for use on exterior commercial building facades.
• Installations of tile over nonporous surfaces, such as waterproofing membranes and existing tile, may require extended setting/curing times. Dimensionally weak stone (limestone, travertine) is limited to thin-set applications only.
• Cure for 28 days before water immersion.
Support Center: A-American Custom Flooring
Niles Branch - Web Sales
7777 N Caldwell Ave.,
Niles, IL 60714

Tel: (847) 966-0500
Fax: (847) 966-0507
Email:
This email address is being protected from spambots. You need JavaScript enabled to view it.

Chicago Branch
3221 W Irving Park Rd.,
Chicago, IL 60630

Tel: (773) 588-6200
Fax: (773) 588-6190
Email:
This email address is being protected from spambots. You need JavaScript enabled to view it.

Hawaii Branch - Contracting Office
96-1209 Waihona St.,
Pearl City, HI 96782

Tel: (808) 454-8888
Fax: (808) 454-8889
Email:
This email address is being protected from spambots. You need JavaScript enabled to view it.