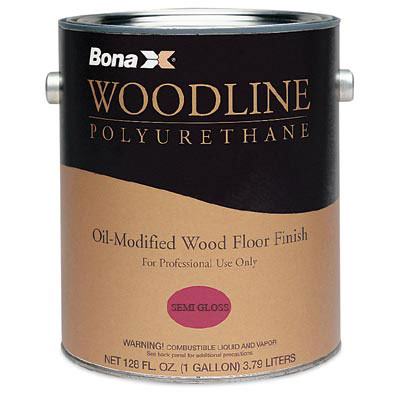 Bona Woodline Polyurethane Wood Floor Finish Semi-Gloss 1 qt
Price per Unit (piece):
piece(s) in package: 1.00

SKU: 737025*900663
Dimensions: LxWxH - 0.00x0.00x0.00
Weight: 5.00 lb / package
In Stock: 2652 (pieces)
Description
Bona Woodline Polyurethane Semi-Gloss is a premium, oil-modified wood floor finish formulated for interior use on residential and commercial wood floors. Provides a tough, protective coat. Slight amber color - enhances natural color of wood. VOC compliant in most areas.
see Bona Woodline Polyurethane technical data sheet
manufacturer part# ST750351064
packaging: 1 qt metal can
Key benefits:
• Provides a tough, protective coat
• Slight amber color - enhances natural color of wood
• Does not require thinning under normal environmental and application conditions (65°-75°F, 40-60% relative humidity)
• Self-leveling
• Will adhere to most solvent-based stains and finishes and most waterborne finishes after proper preparation, drying times and curing times
Physical characteristics:
• Ingredients:
– Satin and Semi-Gloss: Oil-modified polyurethane resin, mineral spirits (solvent), driers, silica
– Gloss: Oil-modified polyurethane resin, mineral spirits (solvent), alkyd resin, driers
• Color: Gold amber
• Solids: 43.5%
• Density: Gloss: 7.3 lbs/gallon (.87 S.G.); Satin and Semi-Gloss: 7.8 lbs./gallon (.94 S.G.)
• US Regulatory VOC: 510 g/L
• Gloss Level: Gloss: (60º) >90º; Semi-Gloss: 60; Satin: 30
• Odor: Mineral spirits
• Stability: One year shelf life in unopened container
• Flash Point: Satin and Semi-Gloss: 103º F (39ºC); Gloss: 110º F (43ºC)
• Packaging: 5 gallon pail, 1 gallon can, 1 quart can
Application characteristics:
• Clarity: Gloss: Clear; Satin and Semi-Gloss: Slightly opaque
• Coverage: 500 square feet per gallon
• Percent Cured After 24 Hours: 40%
• Maximum Cure: 100% after 2 weeks
• Application Tools: Bona Brush, lambswool applicator
• Leveling: Good
• Defoaming: Excellent
• Drying Time: 8-12 hours
Recommended use:
• Residential
• Commercial
• Not recommended over white or pastel stains
Support Center: A-American Custom Flooring
Niles Branch - Web Sales
7777 N Caldwell Ave.,
Niles, IL 60714

Tel: (847) 966-0500
Fax: (847) 966-0507
Email:
This email address is being protected from spambots. You need JavaScript enabled to view it.

Chicago Branch
3221 W Irving Park Rd.,
Chicago, IL 60630

Tel: (773) 588-6200
Fax: (773) 588-6190
Email:
This email address is being protected from spambots. You need JavaScript enabled to view it.

Hawaii Branch - Contracting Office
96-1209 Waihona St.,
Pearl City, HI 96782

Tel: (808) 454-8888
Fax: (808) 454-8889
Email:
This email address is being protected from spambots. You need JavaScript enabled to view it.