The security of your personal information is very important to us. In our efforts to protect your online transactions, we use a technology called Secure Sockets Layer (SSL). If your browser is capable of SSL, your personal information will be automatically encrypted, or encoded, before it is sent over the Internet.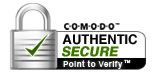 We have obtained a digital certificate from COMODO, a leading provider of Internet trust services. When you enter a secure portion of this site (which is any page containing any of your personal information), an image of a closed lock or a solid key should appear near or around your address bar of your browser window. If you click on this image, a small popup window displaying site security information will appear. This certificate guarantees that your personal information is being transmitted in secure (encrypted) form to a www.aamericanflooring.com web server, not to some unknown or unauthorized server. You can verify the validity of our Security Certificate by clicking the lock icon on of any secure pages. The lock icons are typically found to the right of the url (in the location bar).
Some older browsers will show the lock at the bottom right of the browser window.
The lock will only be visible on secure pages. In addition to the lock icon, Secure Pages will have https:// as the start of the URL.
We will never rent or sell your personal information to third parties for any reason. The only third party that give any of your information to that is limited to shipping information is our carriers in who we use to bring you your order.

You can shop at www.aamericanflooring.com with confidence. We have partnered with Authorize.Net, a leading payment gateway since 1996, to accept credit cards and electronic check payments safely and securely for our customers.
The Authorize.Net Payment Gateway manages the complex routing of sensitive customer information through the electronic check and credit card processing networks. See an online payments diagram to see how it works.
The company adheres to strict industry standards for payment processing, including:
128-bit Secure Sockets Layer (SSL) technology for secure Internet Protocol (IP) transactions.
Industry leading encryption hardware and software methods and security protocols to protect customer information.
Compliance with the Payment Card Industry Data Security Standard (PCI DSS).
For additional information regarding the privacy of your sensitive cardholder data, please read the Authorize.Net Privacy Policy.
www.aamericanflooring.com is registered with the Authorize.Net Verified Merchant Seal program.
If for any reason you would like to have your account deleted, and have your personal information removed from our server, you can reach us by the following methods:
Online: Via the form on our contact page
Phone: 1 (847) 966-0500
Fax: 1 (847) 324-7248
e-mail: office[at]aamericanflooring[dot]com
Headquarters address:
A-American Custom Flooring
7777 N Caldwell Ave., Niles, IL 60714