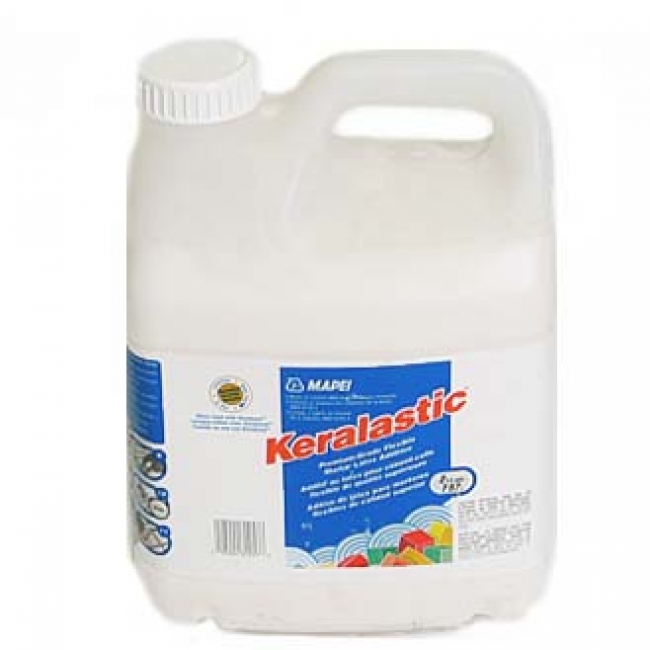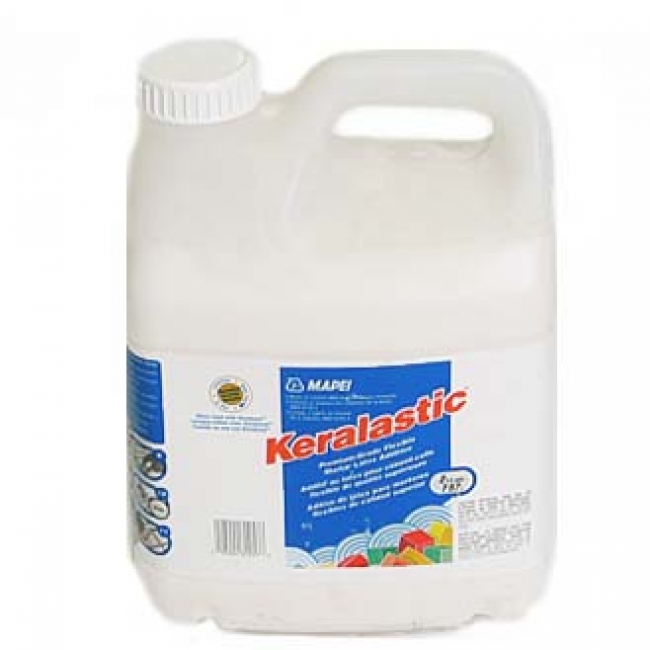 Mapei Keralastic Additive 2 gal
Price per Unit (piece):
SKU: 093994*310576
Weight: 26.00 lb / package
piece(s) in package: 1.00

Mapei Keralastic is a second-generation "flexible" acrylic latex additive used to enhance the performance of Mapei Kerabond, which is a premium-grade dry-set mortar.
Mape Keralastic Additive see technical data sheet
Mapei Kerabond/Keralastic System is a high-performance, two-part system:
Keralastic™, a second-generation "flexible" acrylic latex additive, is used to enhance the performance of Kerabond™, which is a premium-grade dry-set mortar. This system has exceptional bond strength, flexural strength, elongation and freeze/thaw durability.
gtin 093994310576
manufacturer part# 7022007
packaging: 2 US gals. (7,57 L) plastic jug
available also in 5 gal. packaging
Features and benefits:
• High-performance bond
• Best for most difficult tiles, substrates and conditions
Where to Use:
• Most interior/exterior residential and commercial installations on floors, walls and ceilings
• Installation of ceramic and porcelain tile, glass tile, quarry tile, pavers, Saltillo tile, and most types of marble, granite and natural stone
Limitations:
• Install only at temperatures between 40°F and 95°F (4°C and 35°C).
• Do not use for moisture-sensitive stone (green marble, some limestone and granite), agglomerate tiles or resin-backed tiles. Instead, use suitable epoxy or urethane adhesives (see respective Technical Data Sheet for more information).
• Some glass tile backings may not be suitable for use with Kerabond/Keralastic. Consult the recommendations of the TCNA and the glass tile manufacturer.
• For translucent or transparent glass tile, use white Granirapid ® or Adesilex™ P10.
• Use a white mortar when installing light-colored stones and translucent marble.
• Do not use over dimensionally unstable substrates such as hardwood flooring, oriented strand board (OSB), substrates containing asbestos, or metal. See "Suitable Substrates" section below.
• To use directly over gypsum-based patching or leveling substrates, apply suitable sealer before use. See MAPEI's Technical Bulletin 010506-TB, "Installing MAPEI Products over Gypsum."
Shelf Life and Application Properties* at 73°F (23°C) and 50% relative humidity:
• Shelf life 1 year (Kerabond); 2 years (Keralastic)
• Open time* 20 to 30 minutes
• Pot life* > 2 hours
• Time before grouting 24 hours
• VOCs (Rule #1168 of California's SCAQMD) 0 g/L
* Open time and pot life vary based on jobsite conditions.