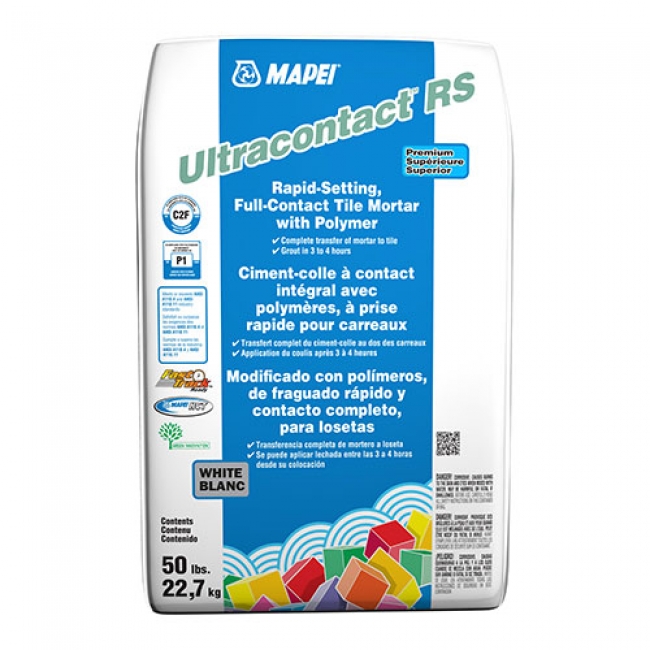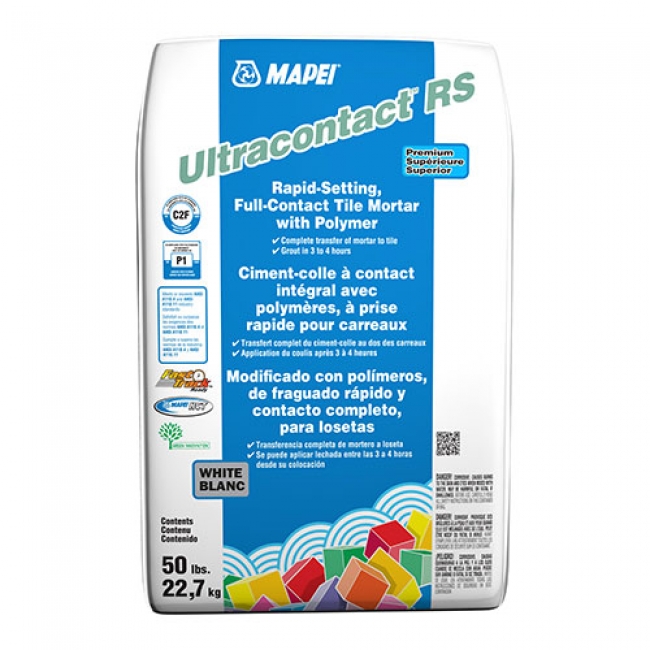 Mapei Ultracontact RS Rapid Set White Mortar 50 lbs
Price per Unit (piece):
SKU: 093994*197504
Weight: 52.00 lb / package
piece(s) in package: 1.00

Mapei Ultracontact RS (white) is an ultra premium, rapid-setting, polymer-modified, high performance full-contact mortar. It uses Mapei's High-Hydrated Cement Technology (HCT).
Mapei Ultracontact Rapid Set White Mortar see technical data sheet
gtin 093994197504
manufacturer part# 2030051
packaging: paper bag of 50 lbs. (22,7 kg)
color: white
available also in gray color
Mapei Ultracontact RS (white) is a premium, rapid-setting, polymer-modified, highperformance, full-contact mortar. Its superior wet-out characteristics achieve outstanding transfer to the back of the tile and eliminate the need for backbuttering. It is more fluid than traditional mortars, yet holds its ridges regardless of trowel size. It can be used in thin-set and medium-bed applications with all types of tile sizes. Ultracontact RS is FastTrack Ready™, allowing for grouting in 3 to 4 hours.
Features and benefits:
• Complete transfer of mortar to tile
• Excellent for large tile and stone
• Interior/exterior use on floors for most applications
• Grout in 3 to 4 hours
Where to use:
• Most interior/exterior residential and commercial installations on floors
• Installation of ceramic and porcelain tile, quarry tile, pavers, Saltillo tile, and most types of marble, granite and natural stone
Limitations:
• Install only at temperatures between 40°F and 95°F (4°C and 35°C).
• Do not use for moisture-sensitive stone (green marble, some limestone and granite), agglomerate tiles, cultured marble or resin-backed tiles. Instead, use suitable epoxy or urethane adhesives. See respective Technical Data Sheet for more information.
• Do not use over dimensionally unstable substrates such as hardwood flooring, oriented strand board (OSB), substrates containing asbestos, or metal. See "Suitable Substrates" section below.
• To use directly over gypsum-based patching or leveling substrates, apply suitable sealer before use. See MAPEI's Technical Bulletin 010506-TB, "Installing MAPEI Products Over Gypsum."
• Use a white mortar when installing light-colored stones and translucent marble.
• Installations of tile over nonporous surfaces, such as waterproofing membranes and existing tile, may require extended setting/curing times.
• Do not use for installations subject to prolonged water immersion.