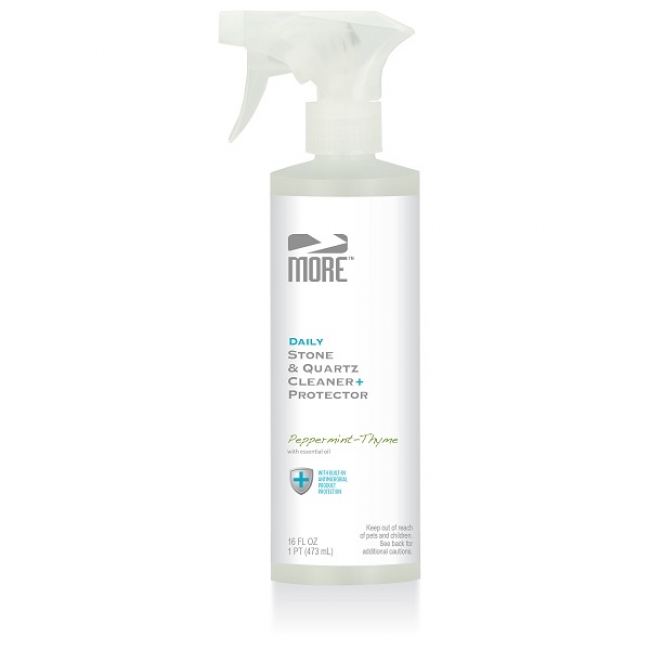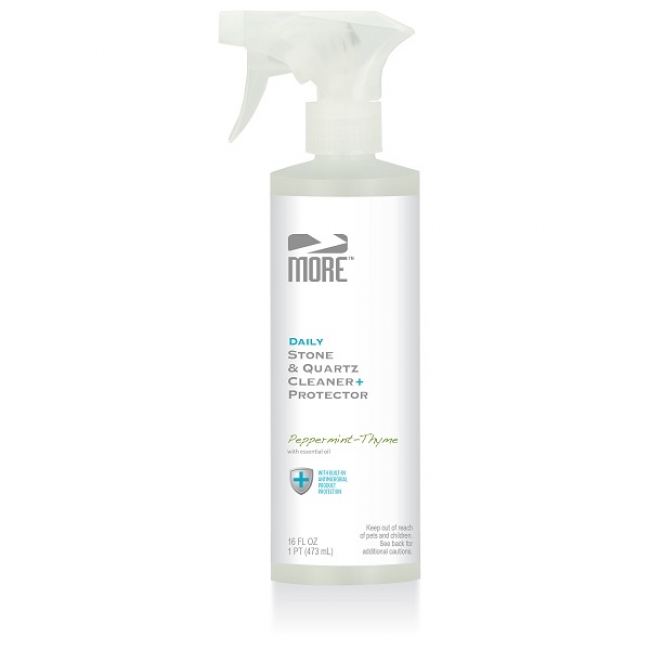 MORE Daily Stone & Quartz Cleaner+Protector 16 oz
Price per Unit (piece):
SKU: 852230*006808
Weight: 3.00 lb / package
piece(s) in package: 1.00

Peppermint-Thyme with essential oil
MORE Stone & Quartz Cleaner + Protector (16 oz) is a 3-in-1 daily cleaner and protector specifically formulated for cleaning and protecting natural stone and quartz surfaces. Gently dissolves dirt and grime without streaking and reinforces stain protection with every cleaning. Now includes built-in antimicrobial product protection, which works continuously to help preventthe growth of stain-causing bacteria on the countertop protector. Neutral pH formula is safe for everyday use – will NOT damage natural stone and quartz.
see MORE Stone & Quartz Cleaner + Protector safety data sheet
manufacturer part#: MSQ16AM
packaging: 16 oz plastic spray bottle
Features:
• Cleans & Protects
• Safe for Natural Stone and Quartz
• Peppermint-Thyme with essential oil
• Streak Free
• Gently Dissolves Dirt and Grime
• No Rinsing Required
Technical data:
• pH Measurement: 7.0
Recommended surface types:
Natural stone, including granite, marble, slate, limestone, travertine, sandstone, bluestone, concrete, Saltillo and other clay-based tile.
Ceramic and porcelain.