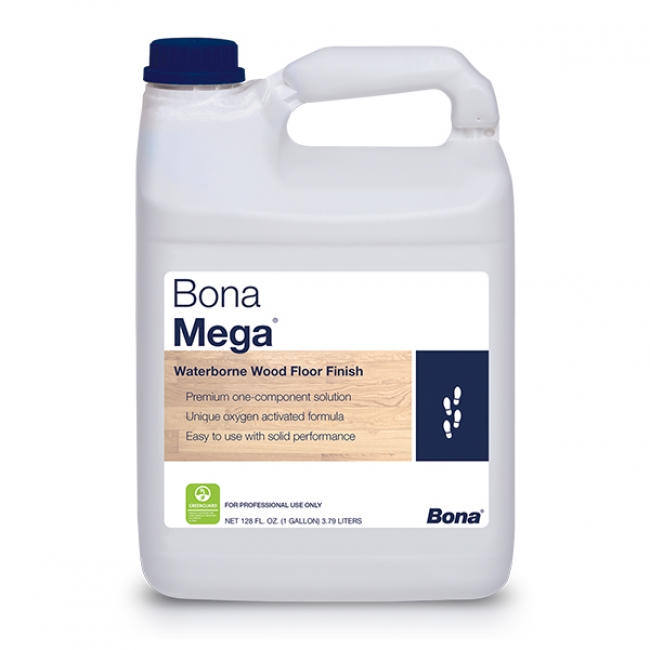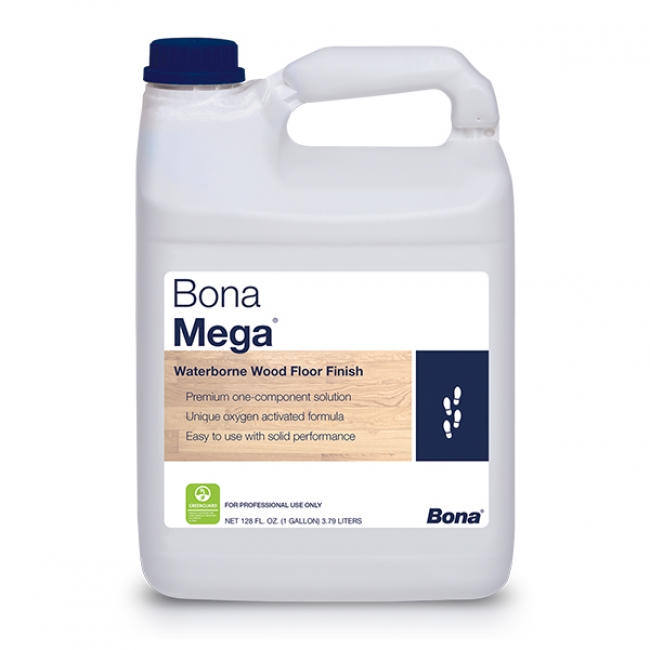 Bona Mega Waterborne Hardwood Floor Finish Satin 1 gal
Price per Unit (piece):
SKU: 737025*800635
Weight: 12.00 lb / package
piece(s) in package: 1.00

Bona Mega (satin sheen) is a waterborne, residential and commercial hardwood floor finish. The proven performance and value standard in the industry, Bona Mega is an oxygen-crosslinking polyurethane (OCP) waterborne formula with extraordinary performance. The oxygen in the air is the crosslinker. No additives to mix, no limited pot life, and no wasted finish.
Bona Mega Waterborne Hardwood Floor Finish (satin sheen) is the revolutionary, oxygen-crosslinking, waterborne wood floor finish for use on heavy-traffic interior residential and commercial floors.
Bona Mega's unique OCP (Oxygen-Crosslinking Polyurethane) formula uses the oxygen in the air as the crosslinker. Bona Mega is the world's leading waterborne finish, providing exceptional durability, beauty and value.
see Mega Hardwood Floor Finish technical data sheet
manufacturer part# WT130618001 satin sheen
gtin 00737025800635
packaging: 1 gal plastic bottle
Benefits:
• Oxygen-crosslinking, 100% polyurethane waterborne formula with extraordinary performance, ease of application and durability
• No limited pot life and no wasted finish
• Natural wood color enhances the beauty of the wood
• Exceptional build and clarity
• Excellent flow and leveling
• Available in gloss, semi-gloss or satin
• GREENGUARD certified for indoor air quality
• Fast drying – approximately 2-3 hours
• Nonflammable and virtually odorless
• Water clean-up
TECHNICAL DATA
Physical characteristics:
• Ingredients: Water, polymeric resins, propylene based glycol ethers, silica derivate, surfactants.
• Color: milky white (wet)
• pH: 7.9
• Solids: 32.5%
• Density: 8.75 lbs./gallon (1.05 S.G.)
• US Regulatory VOC: 150 g/L
• Gloss Level: (60°) >90 for gloss, 45-50 for semi-gloss, 25-30 for satin
• Odor: Non-offending
• Stability: 1 year shelf life in unopened container
Application characteristics:
• Clarity: clear when dry
• Leveling: excellent
• Defoaming: excellent
• Drying Time: 2-3 hours
• Coverage: 500-600 square feet per gallon
• Percent Cured After 24 Hours: 70%
• Maximum Cure: 100% after 1 week
Recommended use:
• Heavy-traffic residential - kitchens, entryways, family rooms, homes with pets, children and high foot traffic
• Commercial - restaurants, offices, retail stores
• Hospitals, schools and universities, nursing homes