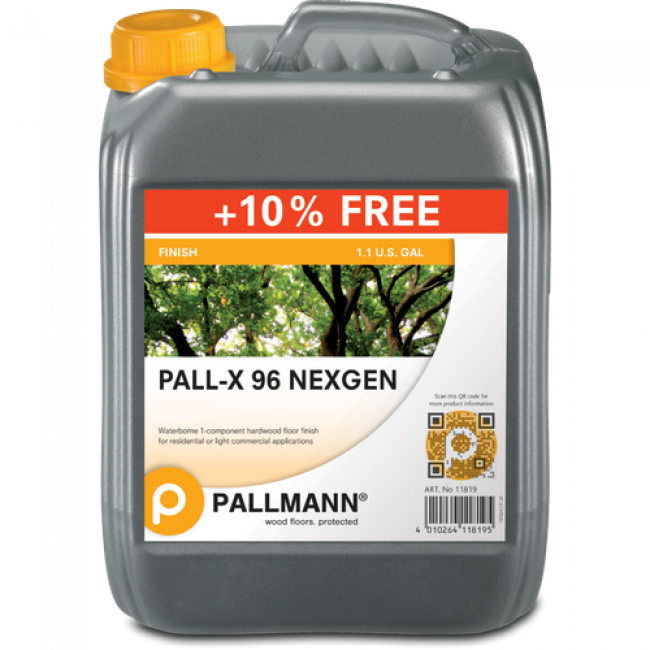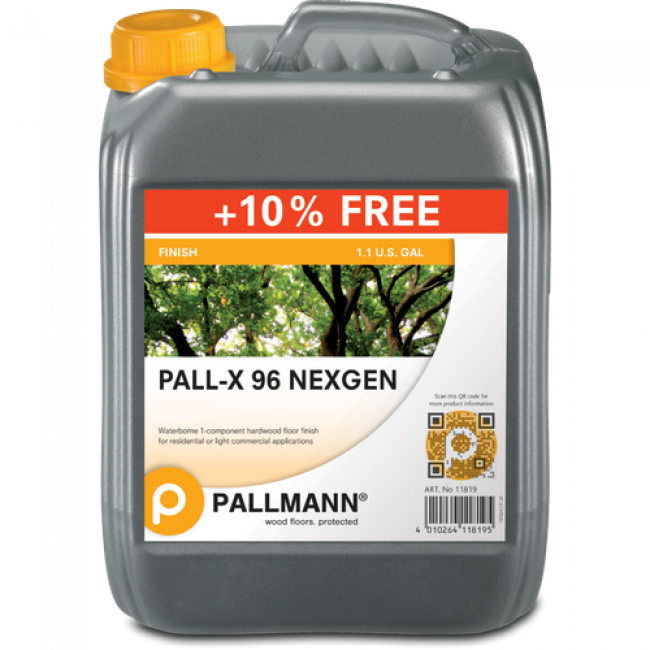 Pallmann Pall-X 96 NEXGEN Matte Floor Finish 1 gal #42222
Price per Unit (piece):
SKU: 401026*4422223
Weight: 12.00 lb / package
piece(s) in package: 1.00

1-component waterborne finish (matte sheen) for residential or light commercial applications.
Pallmann Pall-X 96 NEXGEN Matte #42222 is a 1-component waterborne hardwood floor finish for residential or light commercial applications. This highly durable finish has excellent wear and chemical resistance and provides a deep, rich appearance.
see Pallmann Pall-X 96 NEXGEN matte floor finish technical data sheet and MSDS file
manufacturer part#: 42222
packaging: 1 U.S. gal. plastic jug
Features:
• Excellent flow and leveling
• Not sensitive to UV rays
• 1 component
• Dries fast
• Low odor
• Superior build
• High wear resistance
• Comes in three sheens: matte, satin, and semi-gloss.
Benefits:
• Ready to use
• Easy to apply
• Light foot traffic in 3-4 hours
• Will not amber over time
• Great for light duty commercial and high traffic residential use.
Technical data:
• Color: milky when wet, clear when dry
• Odor: non-offending
• VOC: does not exceed 200 grams per liter
• Coverage: 450-500 sq ft per gallon
• Drying time: approx. 2-3 hours
• Fully cured: approx. 7-10 days
• Application tools: T-bar applicator, brush, cut-in pad or roller
• Storage & working temp: store between 50° and 70°F (10-20°C) and apply at room temperature 65-75°F (18-25°C) for best results.