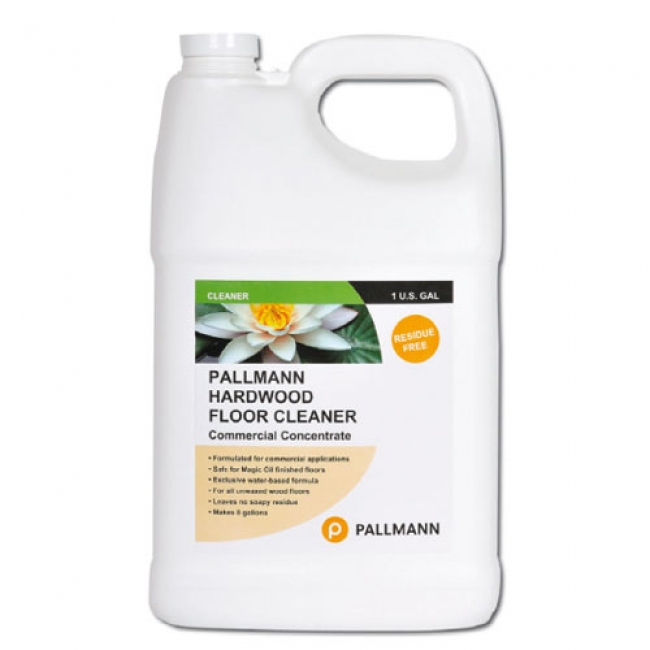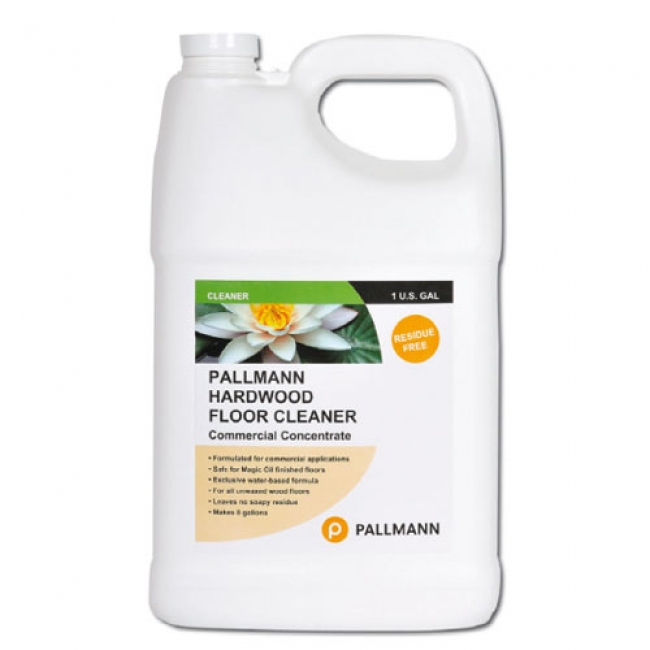 Pallmann Hardwood Floor Cleaner Commercial Concentrate 1 gal #62244
Price per Unit (piece):
SKU: 401026*4622449
Weight: 9.00 lb / package
piece(s) in package: 1.00

A pH neutral, non-toxic cleaner for unwaxed wood floor finishes.
Pallmann Hardwood Floor Cleaner 1 gal Concentrate #62244 is a non-toxic, streak-free pH neutral formula for daily cleaning and maintenance of residential and commercial no-wax wood ­ floor finishes including oil modi?fed and waterborne polyurethanes and factory prefinished ­ floor products. PALLMANN Hardwood Floor Cleaner is also recommended for daily maintenance of PALLMANN Magic Oil wood ­ floor finish.
see Pallmann Hardwood Floor Cleaner Concentrate 1 gal technical data sheet and MSDS file
manufacturer part# 62244
gtin 4010264622449
packaging: 1 gal plastic container
Features and benefits:
• Fully compatible for use on Pallmann Magic Oil 2K finish
• Easy to dilute, 1 gallon of concentrate makes 8 gallons of "ready to use" cleaner
• Exclusive neutral pH waterbased streak-free formula
• Great for cleaning waterborne, solvent polyurethane and Swedish finishes
• Leaves absolutely no residue
• No caustic or abrasive ingredients
• Makes 8 gallons of ready-to-use cleaner
• For residential, commercial and large scale area use.
Directions for use:
• Sweep, dust mop or vacuum before cleaning with Pallmann Wood Floor Cleaner.
• Spray or mist a 4'X6' area of your floor with the cleaner and wipe with a pre-dampened micro­ ber mop. Wetting the mop helps loosen dirt on the floor surface and quickens the cleaning process. It is recommended to rinse your mop as it gets soiled during the cleaning process to avoid leaving a muddy residue behind.
• To clean, simply move the mop back and forth. For stubborn spots, sticky spills and shoe marks, spray cleaner directly on the soiled area and wipe with a clean cloth or mop pad by hand if necessary.
• For large areas, mix PALLMANN Hardwood Floor Cleaner Concentrate in a commercial mop bucket at the recommended dilution ration (1:7).
Technical data:
• VOC: zero
• Scent: fresh lemon scent
• Cleaning tools: microfiber mop or lint-free cloth.
Precautions:
• PALLMANN Hardwood Floor Cleaner Concentrate is for use only on unwaxed surfaces including waterborne and solvent-based polyurethane and Swedish ­ floor finishes. Do not apply undiluted concentrate directly to any ­ floor finish; this may result in an undesirable visual effect of the? nish surface.