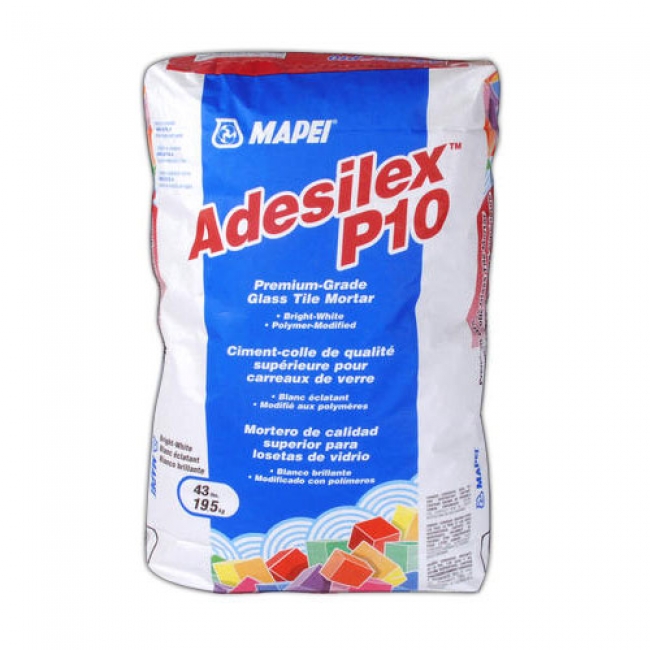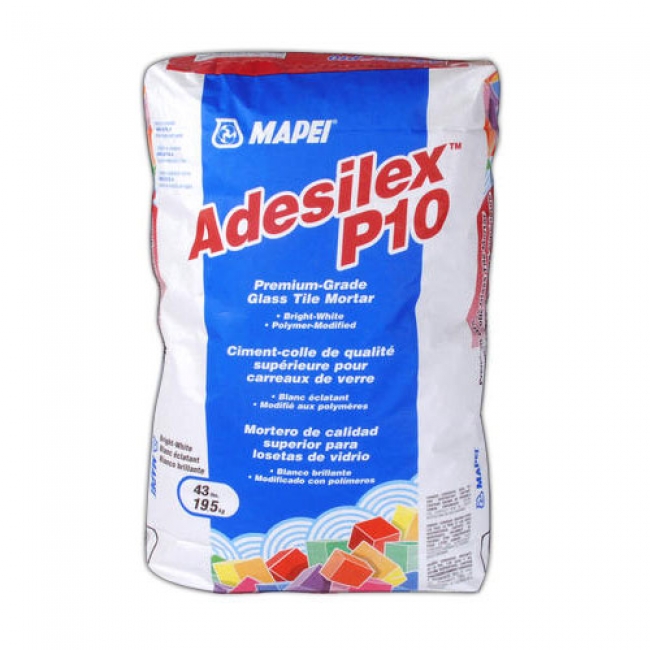 Mapei Adesilex P10 Mortar 43 lbs
Price per Unit (piece):
SKU: MAPEI*ADESILEX
Weight: 43.00 lb / package
piece(s) in package: 1.00

Mapei Adesilex P10 Mortar is a high performance white cementitious adhesive, with no vertical slip and extended open time for glass, ceramic and marble mosaic.
Mapei Adesilex P10 Mortar see technical data sheet
manufacturer part# 11343000
packaging: Adesilex P10 is available in 43 lbs paper bag
Mapei Adesilex P10 is a premium-grade, bright white, multipurpose thin-set mortar formulated with nonsag properties. Adesilex P10 is designed for glass tile, glass mosaic and marble mosaic, and is ideal for light translucent natural stone.
Where to use:
Interior and exterior floor and wall bonding of:
• installation of normal or heavy weight mesh-backed or paper-faced glass, ceramic and marble mosaic.
Technical characteristics:
Adesilex P10 is a particularly fine white powder composed of cement, graded aggregates, synthetic resins and special additives according to a formulation developed in MAPEI's research laboratories.
Adesilex P10 mixed with the correct amount of water or Isolastic becomes a mortar with the following features:
• white in colour. It enhances the colours of glass mosaic tiles;
• a creamy paste which is easily workable;
• excellent adhesion to all conventional materials used in building;
• highly thixotropic: Adesilex P10 can be applied on a vertical surface without sagging or slipping even when heavy tiles are used. Mosaic tiles can be installed from the top towards the bottom without using spacer pegs;
• particularly extended open and adjustability time, making installation easier.
N.B. Mixing Adesilex P10 with Isolastic diluted 1:1 with water will further improve its characteristics up to the requirement of class C2ES1 (highly-deformable, improved cementitious adhesive with extended open time) according to EN 12004.
Recommendations:
Use Adesilex P10 mixed with Isolastic diluted 1: 1 with water in the following cases:
• for installing glass mosaic or ceramic tiles on non absorbent surfaces (Mapelastic, Mapelastic Smart, Mapegum WPS, tiles, etc.);
• for installing glass mosaic or ceramic tiles in swimming pools, basins or similar structures even on absorbent substrates.
Do not use Adesilex P10 in the following cases:
• on wood or wooden conglomerates;
• on metal, rubber, PVC or linoleum surfaces;
• for ceramic tile installations when an adhesive layer thicker than 5 mm is required;
• on concrete subject to strong delayed movement, that is, with less than 6 months curing time.
A particularly moist substrate could slow down the setting of Adesilex P10.