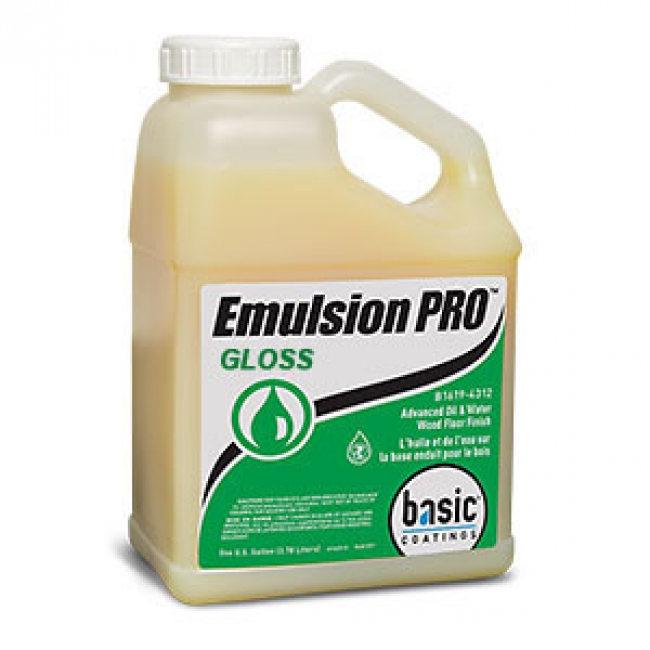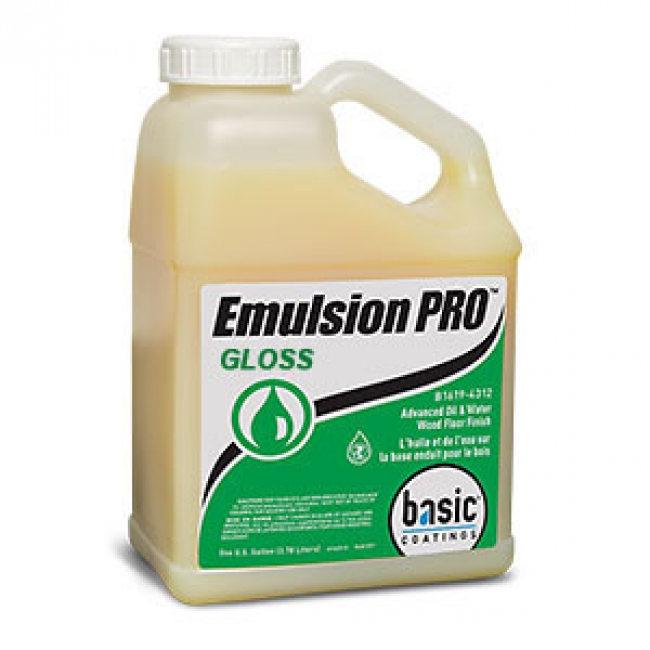 Basic Coatings Emulsion PRO Gloss Wood Floor Finish & Sealer 1 gal
Price per Unit (piece):
SKU: 731648*000465
Weight: 12.00 lb / package
piece(s) in package: 1.00

Basic Coatings has combined the best of oil and water to produce Emulsion PRO, a wood floor coating that has had great success after only a few years on the market. You'll appreciate the exceptionally easy application and consistent results on the job site.
Basic Coatings Emulsion PRO Advanced Oil and Water Wood Floor Finish & Sealer (gloss finish): As a breakthrough in value, Emulsion PRO has what so many waterbased coatings don't - the warm, rich, amber tones of an oil-based finish. Emulsion PRO is self-sealing, VOC compliant and has an oxidative cross-linked urethane system that produces better wear properties than traditional oil finishes. Emulsion PRO is a professional grade self-sealing, low foam, dual crosslinking polyurethane system designed for use in a variety of wood floor applications. Emulsion PRO adds a rich amber color, much like an oil, with fast dry times and superior application properties.
see Basic Coatings Emulsion PRO Gloss Wood Floor Finish & Sealer spec sheet file
manufacturer part# B0675-4312
gtin 731648000465
Features:
• Fastest drying oil.
• Ideal for exotics.
• Less than 275 VOC.
• Single component; no catalyst required.
• Easy to apply.
Applications:
• commercial
• residential
• sports
• wood floor sealer
• wood floor topcoat
Technical specifications:
• Color: light amber
• Coverage: 500 - 600 sq. ft./gal
• Dry time: 2 - 3 hours
• Recoat window: 2 - 24 hours
• Pot life: N/A
• VOC: less than 275
• Shelf life: 1 year
• Light traffic: 24 hours
• Full cure: 7 days
• Rugs: 2 weeks
• VOC: less than 275 grams/liter
Packaging:
• 1 US gallon plastic jug (4 per case)