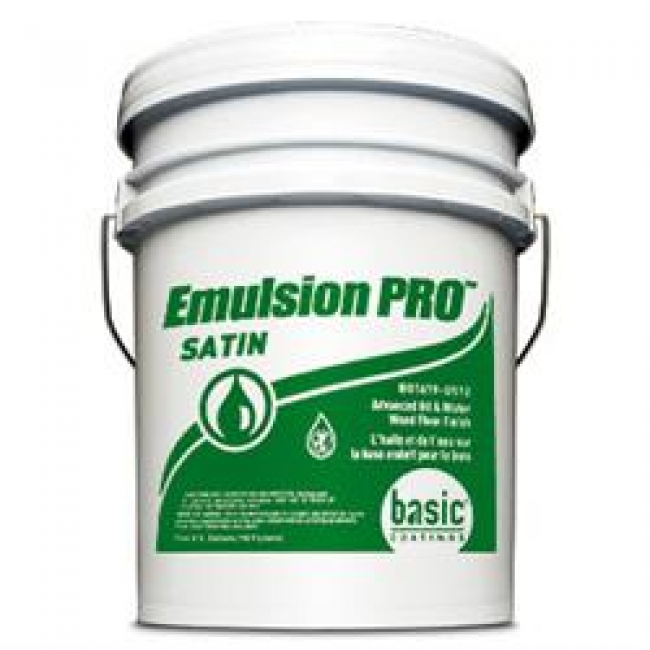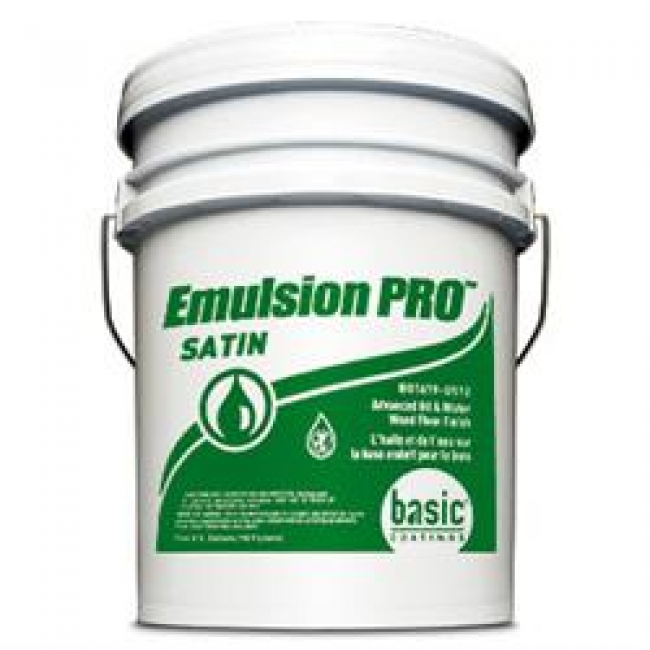 Basic Coatings Emulsion PRO Satin Wood Floor Finish & Sealer 5 gal
Price per Unit (piece):
SKU: 731648*001042
Weight: 91.00 lb / package
piece(s) in package: 1.00

Basic Coatings has combined the best of oil and water to produce Emulsion PRO, a wood floor coating that has had great success after only a few years on the market. You'll appreciate the exceptionally easy application and consistent results on the job site.
Basic Coatings Emulsion PRO Advanced Oil and Water Wood Floor Finish and Sealer (satin finish): As a breakthrough in value, Emulsion PRO has what so many waterbased coatings don't - the warm, rich, amber tones of an oil-based finish. Emulsion PRO is self-sealing, VOC compliant and has an oxidative cross-linked urethane system that produces better wear properties than traditional oil finishes. Emulsion PRO is a professional grade self-sealing, low foam, dual crosslinking polyurethane system designed for use in a variety of wood floor applications. Emulsion PRO adds a rich amber color, much like an oil, with fast dry times and superior application properties.
see Basic Coatings Emulsion PRO Satin Wood Floor Finish & Sealer spec sheet file
manufacturer part# B1619-0512
gtin 731648001042
Features:
• Fastest drying oil.
• Ideal for exotics.
• Less than 275 VOC.
• Single component; no catalyst required.
• Easy to apply.
Applications:
• commercial
• residential
• sports
• wood floor sealer
• wood floor topcoat
Technical specifications:
• Color: light amber
• Coverage: 500 - 600 sq. ft./gal
• Dry time: 2 - 3 hours
• Recoat window: 2 - 24 hours
• Pot life: N/A
• VOC: less than 275
• Shelf life: 1 year
• Light traffic: 24 hours
• Full cure: 7 days
• Rugs: 2 weeks
• VOC: less than 275 grams/liter
Packaging:
• 5 US gallon pail