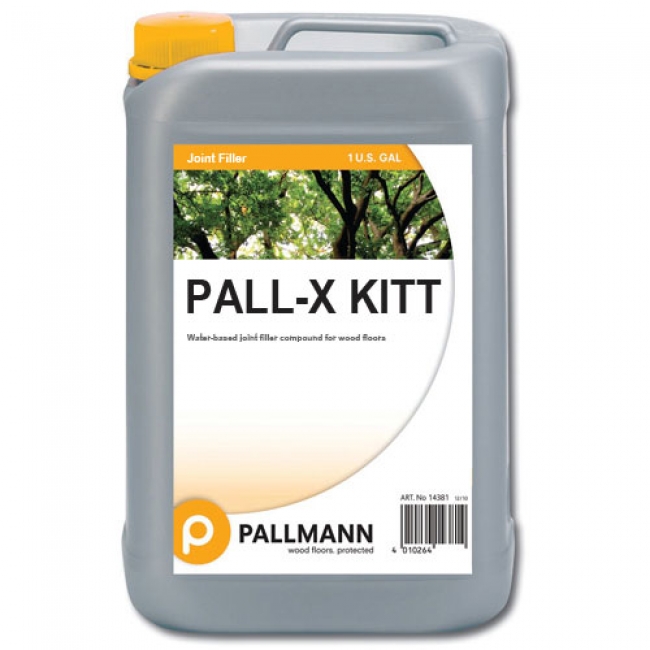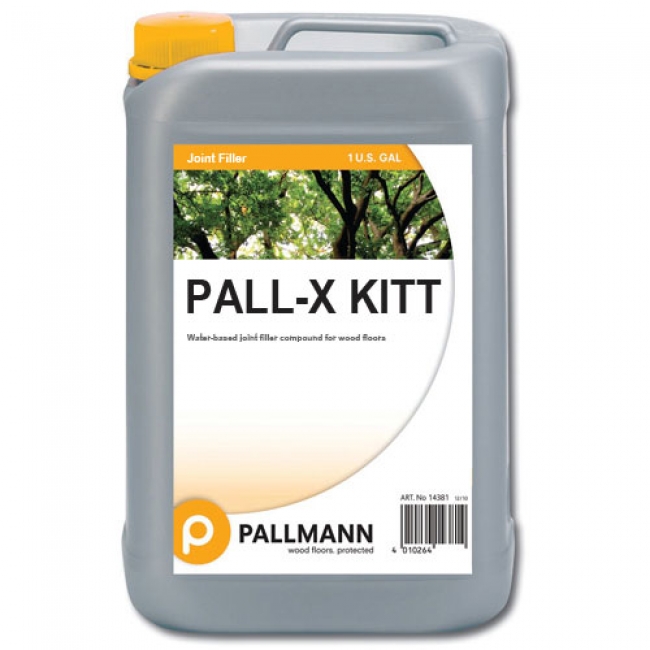 Pallmann Pall-X Kit Joint Filler Compound 1 gal #42195
Price per Unit (piece):
SKU: 401026*4421950
Weight: 18.00 lb / package
piece(s) in package: 1.00

Water-based joint filler compound for wood floors.
Pallmann Pall-X Kit Joint Filler Compound 1 gal #42195 is a water-based joint filler compound that is mixed with sanding dust and used for joint and trowel filling of wood floors. It is suitable for strip, plank and parquet flooring of all species where color-matching is important and where filler stability and adhesion are vital. Pall-X Kitt's viscous, paste-like mixture is rated for radiant heat floor systems.
see Pallmann Pall-X Kit Joint Filler Compound 1 gal technical data sheet and MSDS file
manufacturer part#: 42195
packaging: 1 gal plastic container
Features:
• Uses sanding dust from floor to be filled
• Ready-to-use, fast drying formula
• No-clog formula
• High viscosity.
Benefits:
• Perfect color matching
• Saves time
• Will not load or waste abrasives
• Holds well in gaps.
Technical data:
• Color: Milky yellow when wet, color-matched to species when dry
• VOC Content: VOC does not exceed 100 grams per liter
• Stability: Minimum 12 months
• Mixing Ratio: Blend to a paste consistency that can be trowel applied
• Working Temp.: 65-75°F (18-25°C) for optimum performance
• Coverage Rate: Approx. 400 sq. ft. per gallon, depending on floor condition
• Ready for Sanding: 15-25 minutes
• Storage: Store between 50-70?F (10-20?C). Keep from freezing.
Directions for use:
• Shake Product Well.
• Pour the Pall-X Kitt into a 'crater' of sanding dust on the floor to be filled. Using a stainless steel trowel, blend the liquid with the dust to achieve a trowelable paste consistency.
• Trowel apply to the floor, filling all joints and gaps. NOTE: From time to time it will be necessary to add more Kitt liquid to the mix on the floor to maintain a paste-like consistency. Pall-X Kitt may also be mixed with sanding dust in a bucket prior to trowel application.